10 killed as violence marks voting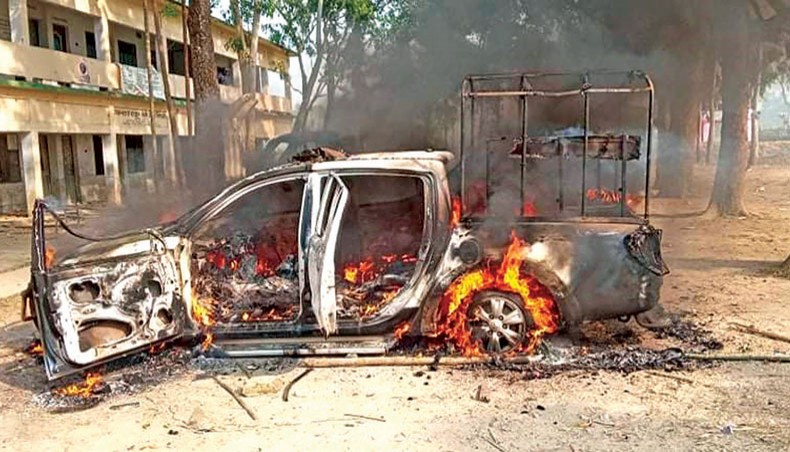 At least 10 people, including two women, were killed and several dozens injured in deadly violence over the fifth phase of union parishad elections held on Wednesday.
Many of the contestants in different unions also boycotted the elections during the polling hours.
According to the authorities, five people were killed in Bogura district, two in Chandpur and one each in Chattogram, Manikganj and Gaibandha districts.
The latest fatalities in what was the deadliest phase of the staggered election to the lowest tier of the local government took the number of people killed in the polls-related violence to 110 since June.
Violent incidents and irregularities were reported on Wednesday from various parts of the country, including Savar of Dhaka, Brahmanbaria, Cumilla, Noakhali, Munshiganj and Jashore.
Election Commission secretary Humayun Kabir Khandaker at a press conference in Dhaka said that the elections were held peacefully with some isolated incidents.
He claimed that voter turnout in the polls was nearly 70 per cent.
About the deaths, he said that the Election Commission was not responsible for such deaths or electoral violence.
'I am requesting all candidates and supporters not to get emotional and show mutual respects,' he said.
While visiting some polling centres in Ashulia, a union under Savar upazila of Dhaka, election commissioner Mahbub Talukdar expressed his discontent observing irregularities and a low voter turnout.
'Vote is being cast openly in front of presiding officers. Witnesses and journalists have observed this but no measures have been taken. The police and RAB are on the spot but they did not take any action. What election are we holding?' he said.
Replying to a query about potential measures against irregularities, he said that the returning officer had been given the responsibility. 'He will take action in whichever way he thinks is appropriate,' he said.
Addressing a press conference later at his office in Dhaka, Talukdar said that clashes had become a norm in the UP elections.
'In the so-called vote-battle, there are only battles now, no voting,' he said.
He said that the law enforcement agencies must be more vigilant to prevent poll violence across the country.
To prevent further escalation of clashes, he emphasised that the causes behind the violence must be investigated.
He said that parliament members were violating the election code of conduct during the ongoing UP elections, which is 'very shameful.'
In Bogura, at least four people, including a woman, were killed Border Guard Bangladesh personnel opened fire at a violent mob in Gabtoli upzila's Baliadighi union in the evening.
Confirming the incident, Zia Latiful Islam, the officer-in-charge of Gabtoli police station, told New Age, BGB opened fire after some people engaged in a clash at the Kalaihata Government Primary School polling station.
The incident occurred when the presiding officer refused to declare the results at the polling centre, locals said.
The deceased are Kulsuma Akter, 35, Alamgir Hossain 35, Abu Sayed, 60 and Khorshed Ali, 70.
Independent candidate Shafiul Islam Titu was contesting against Awami League candidate Yunus Ali Fakir in the union.
United News of Bangladesh reported that a man was killed in a clash between the supporters of two UP member candidates at Rameshwarpur union in Gabtoli upazila. The deceased Zakir Hossain, 36, was a supporter of member candidate Saidul Islam.
The clash broke out around 2:30pm at Jaiguli Govt High School ground of Rameshwarpur between the supporters of member candidate Saidul Islam and his rival candidate Ferdous Hossain Mithu, leaving Zakir seriously injured.
Later, he was rushed to Shaheed Ziaur Rahman Medical College and Hospital where doctors declared him dead.
In Chttogram, New Age staff correspondent reported that a man was killed during clashes between the followers of two member candidates in Anwara upazila.
The deceased is Ankur Dutta, 30, son of Nepal Dutta from Singhora of Chatori area in Anwara, said the officials.
Ankur was a supporter of member candidate for ward no. 7 Nazim Uddin.
Witnesses said that the supporters of Nazim Uddin and Raghunath Sikdar were engaged in a clash 100-metre away from the Singhora Government Primary School polling centre at about 12:00pm.
Injured Ankur was rushed to Chattogram Medical College Hospital, where doctors declared him dead at about 1:30pm, said assistant sub-inspector Md Alauddin Talukder of CMCH police outpost.
In Boalkhali upazila of the district, a local Awami League leader was seriously injured in an attack allegedly by the supporters of his rival candidate on early Wednesday before polling started at Shikdarpara in Ahala Koroldenga union.
Injured Abdullah Al Harun Ripon, 32, general secretary of union unit AL was sent to Chattogram Medical College and Hospital in critical condition, Boalkhali police station officer-in-charge Abdul Karim said.
At least three journalists were injured when seven vehicles carrying journalists from various media organisations were vandalised by miscreants in the upazila.
Witnesses said the incident took place around 10:00am at the Ahala Asadia Government Primary School polling centre in ward 10 under Boalkhali.
Boalkhali police officer-in-charge Karim said that they were yet to identify the attackers. 'If someone files a complaint, police will look into it,' he said.
Manikganj additional police superintendent Taniya Sultana confirmed New Age that a woman, named Samela Khatun, 50, of Banchamara area was killed when supporters of two member candidates locked into a clash near Banchamara Government Primary School centre under Daulatpur upazila in the district.
In Chandpur, two people were killed in separate incidents of election violence in Kachua and Haimchar upazilas, Chandpur superintendent of police Milon Mahmud confirmed New Age.
He said that one of the deceased Sharif Hossain, 18 was a son of Shahid Ullah of Sachar union of Kachua upazila. He said Sharif was a supporter of member candidate Zakir Hossain.
The police super could not confirm the identity of another victim immediately.
In Jamalpur, a bullet-hit man was sent to Mymensingh Medical College Hospital in critical condition after a clash at Merurchar union under Bakshiganj upazila, police and hospital sources said.
Several people were injured in a clash between the supporter of ruling Awami League-backed chairman candidate and an independent candidate, said Jamalpur police superintendent Nasir Uddin. The angry mob set fire to a police vehicle after the clash, he said.
In Gaibandha, police recovered the body of member candidate Ijol Mia's supporter Abu Taher from near a polling centre at Jummabaria area under Saghata upazila.
The Saghata police officer-in-charge (investigation) Rajab Ali confirmed New Age.
In Shariatpur, supporters of an independent chairman candidate set fire to a building of Dulukhanda Government Primary School centre under Vojeshshor union in Naria upazila.
A group of supporters of chairman candidate Delwar Hossain Bepari entered the centre around 2:00pm, fired shots and exploded several crude bombs, creating panic among the voters, New Age correspondent reported from the spot.
The attackers also beat up voters before the law enforcers opened fire to disperse them.
Motorbikes of Jamuna TV's district correspondent Kazi Moniruzzaman and another journalist were also burnt during the incident.
Later, additional members of the police, and Border Guard Bangladesh brought the situation under control.
New Age correspondent in Brahmanbaria reported that two member candidates were detained after a clash between their supporters at Datisaar polling station in Basudeb union under Brahmanbaria Sadar upazila.
The clash took place at the centre around 11:30am.
Later the situation was brought under control and the two candidates were detained by the BGB at 12:00pm.
In Savar, four ballot paper books sealed with the 'boat' symbol were found following a chase and counter-chase between supporters of candidates at a polling centre in Ashulia union.
Witnesses and local voters said supporters of Awami League-backed chairman candidate and a member candidate – contesting the polls with 'football' symbol – occupied Ashulia School and College centre.
In Cumilla, Awami League's Lalmai upazila unit office secretary Kazi Mehedi Hasan was jailed for 15 days for entering a polling centre with cash money, election documents, and an unlicensed private car.
Executive magistrate Moushumi Akter confirmed the news.
Besides, two more individuals, including an Awami League-nominated chairman candidate, were jailed and fined for illegally using stickers of different law enforcement agencies on a private vehicle in the district's Borkoit union parishad.
They are – ruling party-backed candidate and current chairman Abul Hashem and his driver Md Ali.
The first phase of the UP elections was held on June 21 and September 20, the second phase on November 11, the third phase on November 28, the fourth phase on December 26 while the sixth phase is scheduled for January 31 and the last and seventh phase on February 7.
Opposition Bangladesh Nationalist Party and other major parties have boycotted the UP polls, saying that the Election Commission has lost its credibility to hold a fair election.
News Courtesy:
https://www.newagebd.net/article/159163/10-killed-as-violence-marks-voting