Bodies of four victims of Dhaleshwari trawler capsize recovered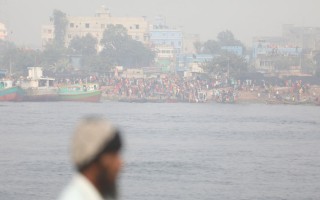 The bodies of four victims, who died in a trawler capsize in the River Dhaleshwari, were recovered on Sunday morning, four days after the accident.
The bodies were recovered in the river near the accident spot, said Narayanganj fire service deputy assistant director Abdullah Al Arefin.
He said that the bodies were seen floating in the water on Sunday morning and they recovered those. Identities of the deceased were yet to be confirmed.
Six people are still missing.
The trawler, which was carrying over 40 passengers, sank in the River Dhaleshwari near a jetty in Narayanganj after being hit by Dhaka-bound launch MV Farhan-6.
While many passengers managed to swim ashore, at least 10 people remained missing.
The launch heading for Dhaka from Bhola is owned by the lawmaker for Barishal-3 constituency Golam Kibria Tipu.
News Courtesy:
https://www.newagebd.net/article/159502/bodies-of-four-victims-of-dhaleshwari-trawler-capsize-recovered