Hasina urges doctors to spend time in research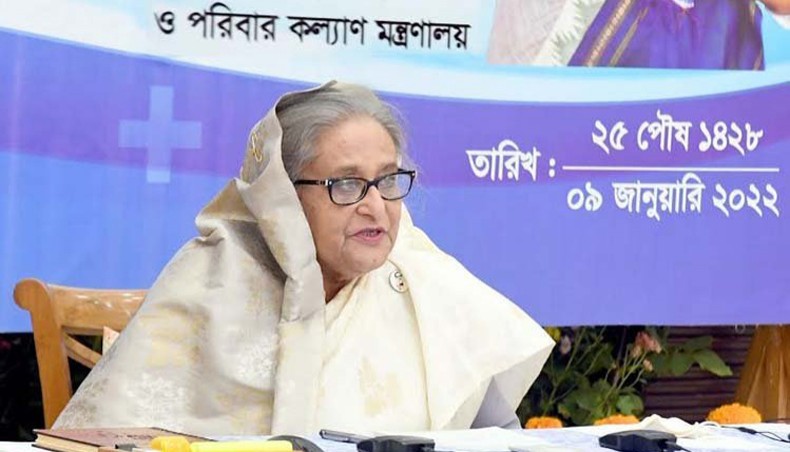 Prime minister Sheikh Hasina on Saturday called upon Bangladesh's renowned physicians to spend some time in research alongside providing treatment to the patients.
'We're setting up medical universities for conducting research along with providing treatment as research is inevitable in medical science,' she said.
The prime minister made this remarks while addressing the foundation stone laying ceremony of establishment of 460-bed comprehensive heart, kidney and cancer treatment units in medical college hospitals of the country's eight divisional cities at Osmani Memorial Auditorium.
Joining virtually from her official residence Ganabhaban, she also renewed her call to the people to receive Covid-19 vaccine and maintain the health safety protocols as the new variant of the lethal virus is spreading quickly across the world.
Sheikh Hasina asked the country's renowned doctors to find out the diseases which are affecting the local people frequently.
'You (doctors) should put concentration on sorting out that what types of diseases are attacking our people due to our environment, weather, climate and overall other aspects, finding out some time from attending the patients,' she said.
She also urged the physicians to focus on the ways of increasing the resistance against those diseases and 'what kind of actions can be taken for it.'
She said the government has been establishing medical universities in divisional headquarters where post-graduate level doctors will continue their study.
'I asked you to conduct research alongside attending patients and the government will do whatever is required for it,' she added.
Referring to the establishment of biotechnology institute in Savar, the prime minister said research in the field of biochemical, biomedical, genetic engineering and oncology is badly needed in the country.
'It is needed to find out why the country's people are being affected with such types of diseases,' she emphasised; saying that the government wants
technology-knowledge based more manpower be developed in the country.
Meanwhile, cancer treatment and bone marrow transplantation has started in the country but expansion of it is needed considering the requirement of the people, she said.
The premier also highlighted the establishment of different institutes such as Gastroliver, ENT, Eye and others by her government to provide proper treatment to people.
With Health and Family Welfare Minister Zahid Maleque in the chair, Senior Secretary of Health Service Division Lokman Hossain Miah delivered the welcome address.
At the outset of the function, a video documentary on the development activities taken by the present government and initiatives adopted by prime minister Sheikh Hasina to deal with the Covid-19 pandemic was screened.
News Courtesy:
https://www.newagebd.net/article/159512/hasina-urges-doctors-to-spend-time-in-research