Narayanganj city polls underway amid tight security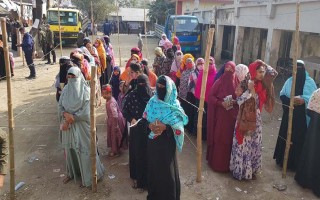 The third election to Narayanganj City Corporation is now in progress amid tight security.
The voting began at 8:00am on Sunday and will continue until 4:00pm without any break. This time, voters will use electronic voting machines to cast their votes in all the centers.
Voters began to come to the polling centers before the scheduled time and stood in queues to exercise their voting rights.
Awami League mayoral candidate Selina Hayat Ivy, after casing her vote at Deobhogh Shishubagh School polling centre at about 10:45am, expressed her hope to win in the elections.
Independent mayoral candidate Taimur Alam Khandakar, after casting his vote at the Narayanganj Islamia Kamil Madrasa Centre in Masdair at about 8:30am, alleged that his polling agents were barred from entering into one polling centre.
He said that the election environment was, however, 'so far good' and hoped that he would win.
Before casting his vote, Taimur visited several centres.
Visiting different polling centers, New Age correspondents found a good rush of voters to the polling centres.
At Khanpur Boy's Primary School election centre, about 50 voters were in queues at about 8:00am to exercise their voting rights.
The situation at Dhankunda High School, Tantkhana Primary School, and Bibi Maurium Girl's High School was almost same. As time passed, the presence increased.
No report of untoward incident came until 1:30am.
According to the Election Commission, 5.17 lakh people have enrolled to cast their vote to elect the city mayor and councillors for 27 general wards and nine reserved positions for women.
Seven candidates are contesting for the mayoral post while 180 candidates are running for the 36 positions of councillors for general and reserved wards.
Awami League candidate Selina Hayat Ivy was seeking her third consecutive term as mayor as she was elected twice — in 2011 as an independent candidate, and in 2016 as an Awami League candidate.
Besiders Ivy and Taimur, the five other mayoral candidates in the election are -Khilafat Majlish-backed AMB Sirajul Mamun, Islami Andolan Bangladesh -backed Masum Billah, Bangladesh Kelafat Andolan's Jasim Uddin, Bangladesh Kallyan Party's Rashed Ferdous and independent candidate Kamrur Islam.
Around 5,000 law enforcing personnel have been deployed for 192 polling centers of NCC election each having 26 members.
The striking joint force of police and Rapid Action Battalion will immediately take actions if any unfavorable situation arises during the poll, said Mahfuza Akter, said returning officer of NCC elections on Friday evening.
News Courtesy:
https://www.newagebd.net/article/160099/narayanganj-city-polls-underway-amid-tight-security