Lankan youths block airport to prevent MPs from leaving country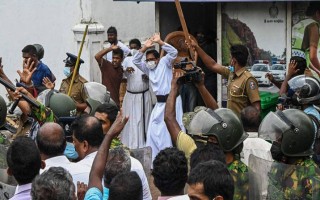 According to a report of the Daily Mirror, a group of youth from the Katunayake Free Trade Zone blocked the entrance to the Bandaranaike International Airport in Sri Lanka on Tuesday to prevent the country's lawmakers from leaving the country.
They said that the youth had blocked the entrance of the airport by parking vehicles across the road.
Sri Lankan prime minister Mahinda Rajapaksa resigned on Monday, as an outbreak of political violence killed five people including an lawmaker and wounded almost 200.
Lawmaker Amarakeerthi Athukorala from the ruling party shot two people -- killing a 27-year-old man -- and then took his own life after being surrounded by a mob of anti-government protesters outside Colombo, police said.
And another ruling-party politician who was not named opened fire on anti-government protesters in the southern town of Weeraketiya, killing two and wounding five, according to police.
Heavily armed troops evacuated outgoing Sri Lankan prime minister Mahinda Rajapaksa from his official residence in Colombo on Tuesday after thousands of protesters breached the main gate of 'Temple Trees'.
Protesters who forced their way into the capital's Temple Trees residence then attempted to storm the main two-storey building where Rajapaksa was holed up with his immediate family.
News Courtesy:
https://www.newagebd.net/article/170119/lankan-youths-block-airport-to-prevent-mps-from-leaving-country