Suspended JL leader Samrat gets bail in corruption case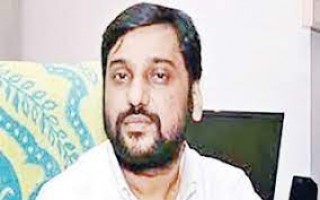 A Dhaka court granted bail to suspended Juba League leader Ismail Hossain Chowdhury Samrat on Wednesday in a case filed against him by the Anti-Corruption Commission over amassing illegal wealth.
Judge Al Asad Md Asifuzzaman of Dhaka Special Judge Court-6 passed the order on Wednesday.
Earlier, Samrat secured bail in three cases, among four filed against him.
Now, there is no legal bar to release of Samrat from jail, said Samrat's lawyer Ehasanul Haque Samajee.
On November 12, 2019, ACC filed the case against him after investigations alleging that he acquired assets worth around Tk 2.95 crore beyond his known income sources.
Deputy director of the ACC and investigating officer Jahangir Alam presented the charge-sheet before the Metropolitan Session Judge's Court on November 26, 2020.
The Rapid Action Battalion arrested Samrat raiding a village in Cumilla's Chauddagram upazila on October 6, 2019.
Police also raided his Kakrail office in Dhaka and recovered huge quantity of foreign liquor, guns and animal hides.
Immediately after his arrest, a mobile court sentenced Samrat to six-month jail for possessing animal hides.
A case was filed against him under the Arms and Drugs Act for possessing arms and drugs.
Later, Criminal Investigation Department filed a case against him under the Money Laundering Act and the ACC filed a case against him for acquiring illegal assets.
News Courtesy:
https://www.newagebd.net/article/170217/suspended-jl-leader-samrat-gets-bail-in-corruption-case