Padma Bridge to be inaugurated in last week of June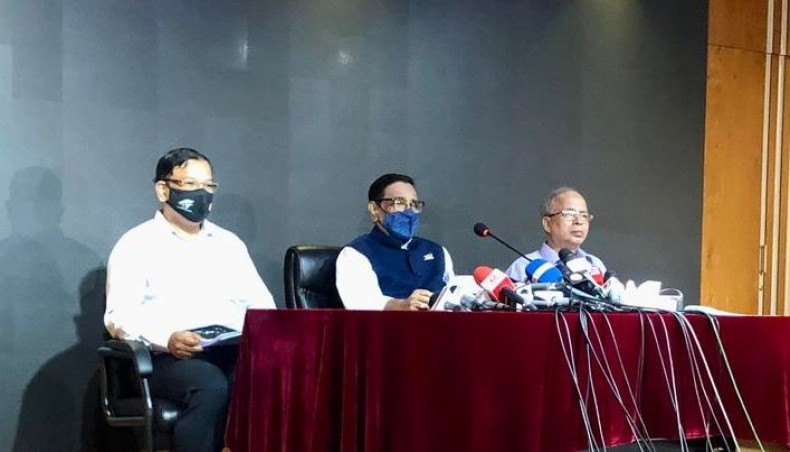 Road transport and bridges minister Obaidul Quader on Wednesday said that the Padma Multipurpose Bridge would be inaugurated in the last week of June.
'We're sending summary to the prime minister, Sheikh Hasina, and we will fix the inaugurating date of the bridge after getting her schedule,' he said at a briefing held at the Shetu Bhaban in the capital.
Replying to a question he said that there was no probability of opening the bridge on June 23 — the founding anniversary of Awami League.
The minister also said that the summary of proposed toll rates for using the bridge was also sent to the prime minister for her approval.
Replying to another question he said that they would hand over the bridge to the Padma Rail Link Project in July.
'We have proposed to name the bridge as Sheikh Hasina Padma Bridge in the summary which we will send to the prime minister,' he said, adding, 'But, the prime minister did not approve that proposal.'
'So far the overall progress of the bridge project is 93.5 per cent,' he added.
Among others, the bridges division secretary, Monjur Hossain, and Padma Bridge project director Shafiqul Islam were present at the briefing.
The Bangladesh Bridge Authority is now implementing the 6.15-kilometre road-cum-rail Padma Bridge between Mawa point in Munshiganj and Janjira point in Shariatpur to connect the capital with 21 south-western districts of the country.
Prime minister Sheikh Hasina had inaugurated the construction work of the bridge in December 2015.
Till now, the cost of the fast-track project has stood at Tk 30,193 crore.
After an initial setback following the cancellation of a $1.2 billion loan deal by the World Bank after it claimed to have identified 'possible corruption risks' in 2012, the government decided to build the bridge with its own funds.
The initial estimate drawn up in 2007-08 for the bridge was Tk 10,161 crore and, according to the first Development Project Proforma, the project was scheduled to be completed by 2014.
The project deadline was extended for the fifth time till June 2022 and, in 2018, the project cost shot up to Tk 30,193 crore.
News Courtesy:
https://www.newagebd.net/article/170218/padma-bridge-to-be-inaugurated-in-last-week-of-june