Dengue cases rising with pre-monsoon rain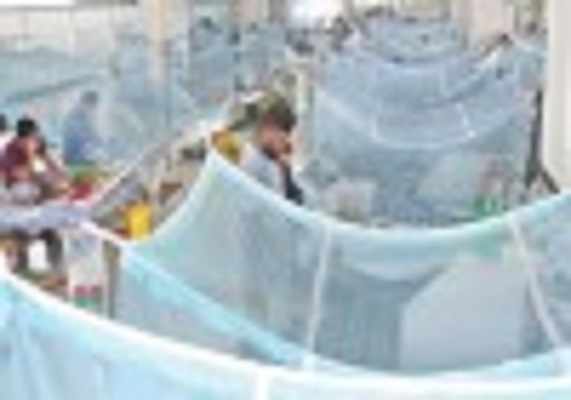 With the arrival of pre-monsoon rain, the number of dengue patients is rising in the capital Dhaka, authorities said.
According to the Directorate General of Health Services, 45 dengue patients were hospitalised in May while 23 were hospitalised in April, 20 in March and February and 126 in January.
The DGHS in a pre-monsoon survey report in April found a higher density of Aedes mosquito in Dhaka compared with 2021 and predicted a worsening dengue situation unless quick steps were taken.
Experts urged the city authorities to follow scientific methods in conducting mosquito control drives to prevent the situation from deteriorating further.
Former principal scientific officer of the Institute of Epidemiology Disease Control and Research Touhid Uddin Ahmed said that the number of dengue cases usually starts increasing at the beginning of the monsoon and peaks in July and August.
'The two Dhaka city authorities are conducting crash programmes, drives and other activities in unscientific methods without engaging medical entomologists,' he said.
The city authorities appointed agricultural entomologists to contain mosquitoes while they needed medical entomologists, he said.
'Agricultural entomologists do not have adequate knowledge in containing dengue,' he said.
The unplanned urbanisation, under-construction buildings and waterlogging in places have also led to rising dengue in the past few years, he said.
Entomologist Saifur Rahman said that the city authorities were conducting drives only to destroy larvae. 'They should target areas where dengue patients are found and spray larvicide and adulticide along with creating public awareness,' he said.
He, however, said that there was no alternative to following scientific methods in containing Aedes mosquitoes.
'No study is being conducted to identify dengue serotypes. We should do it to find which serotypes are dominating this year and sketch our plan accordingly,' he said.
Analysing the pre-monsoon trend, epidemiologist AM Zakir Hussain said the number of patients would rise in the coming weeks.
He advised the city authorities to find and destroy the breeding grounds of Aedes mosquitoes.
'The stagnant water from refrigerators, air-conditioners and rooftop gardens in posh areas like Gulshan, Banani and Dhanmondi are also the breeding ground of Aedes mosquitoes,' he added.
Meanwhile, the Dhaka North City Corporation is conducting a 10-day special mosquito eradicating drive from May 17 to May 26.
DNCC chief executive officer Selim Reza told New Age that they had engaged 4,000 people, including cleaners and 1,000 volunteers in the special drives against mosquitoes.
'We have taken huge preparation compared to the past year. If people are not conscious, it will be tough for the city authorities to control the situation alone,' he said.
DSCC spokesperson and public relations officer Abu Nasher told New Age that they were doing their regular activities to contain Aedes mosquitoes.
'We will start conducting special drives in the middle of June this year,' he added.
Meanwhile, since January 1, 2022, a total of 234 dengue patients have been hospitalised. No death from dengue was reported this year officially.
Currently, 23 dengue patients are undergoing treatment in Dhaka city.
No dengue hospitalisation was reported in other places of the country.
In 2021, at least 28,429 dengue patients and 105 dengue deaths were recorded officially, the second-highest yearly dengue hospitalisation and dengue deaths since 2000 when Bangladesh started keeping records.
The highest monthly hospitalised dengue cases in the year 2021 were reported in September with 7,841 cases, followed by August with 7,698 cases, October with 5,458 cases, November with 3,567 cases and December with 1,207 cases.
Dengue usually come down in September but over thousand people were hospitalised in December, 2021 experts blaming that the intermittent rain and change in climate for the lingering dengue situation past year.
News Courtesy:
https://www.newagebd.net/article/171104/dengue-cases-rising-with-pre-monsoon-rain