Number of vehicles on Padma Bridge reduces on second day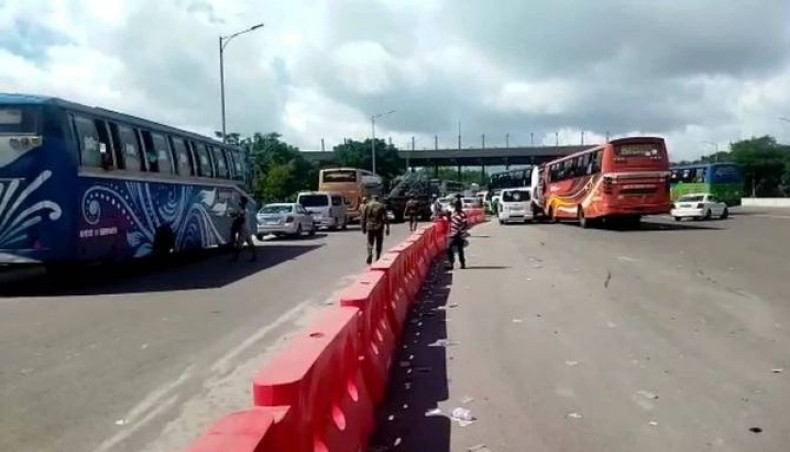 The number of vehicles crossing the Padma Bridge reduced on Monday, the second day of opening of the bridge, as the motorcycles were not being allowed on the bridge.
On the day vehicles were seen crossing the bridge smoothly with no congestion at the toll plazas at Mawa and Janjira points.
Defying ban imposed on Sunday night, since Monday morning a huge number of motorcycles gathered at both the ends of the bridge.
As they were sent back from there, they crossed the river by ferries.
Strict monitoring and patrolling were seen on the bridge on Monday following the fatal road accident last night.
Earlier the much-awaited Padma Bridge was opened for vehicular movement on Sunday from 6:00am.
According to the Bangladesh Bridge Authority between 6:00am on Sunday and 6:00am on Monday total 51,316 vehicles crossed the bridge from both Mawa and Janjira points and Tk 2,09,40,300 were collected from these.
A large number of these vehicles was motorcycles, said BBA officials.
Meanwhile two youths died in a motorcycle accident on the bridge last night.
Amid the chaos, the authorities on Sunday banned plying of motorcycles on the bridge until further notice.
BBA executive engineer Tofazzal Hossain at Mawa toll plaza said that Since Monday morning they were not allowing any motorcycle to come near the toll plaza, reported by New Age Munshiganj correspondent.
'Bangladesh Army, police and district executive magistrates are in strict position to stop plying of motorcycles by the bridge ,' he said.
'The number of vehicles crossing the bridge is fewer than yesterday,' he added.
Mawa toll plaza manager Hamidul Haque said that yesterday a barrier broke at the plaza which was repaired.
Bangladesh Inland Water Transport Corporation chairman Ahmed Shamim Al Razi told New Age on Monday that no ferries ply on Shimulia-Majhikandi and Shimulia-Bangla Bazar routes on Sunday as all people used the Padma bridge.
'But today we are carrying motorcycles by our ferries as they were not allowed on the bridge,' he said.
Shamim also said that they would continue their services.
News Courtesy:
https://www.newagebd.net/article/174431/number-of-vehicles-on-padma-bridge-reduces-on-second-day