3 policemen hurt in bid to free arrestee in Khulna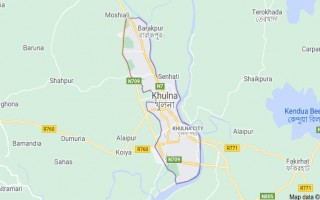 At least three policemen were injured after a group of miscreants allegedly attacked a police team and vandalised their vehicle in a bid to free an arrestee in Khulna.
The miscreants attacked the police team at about 11:30pm on Monday in the Purba Baniakhamar area of the city during a raid, said Hasan Al Mamun, officer-in-charge of Sadar police station.
The injured cops have been identified as inspector (investigation) Shahriar Hasan, sub-inspector Rakibul Islam Rakib and constable Mahabub Islam from Khan Jahan Ali police station.
Inspector Shahriar said they arrested a man named Khairul, 30, from Pother Bazar Check Post with 500 grams of gunpowder at about 4:30pm on Monday.
'At about 9:00pm, we arrested two more people, named Ismail Hossain and Ibrahim Hossain, following a raid in the Bara Masjid Mor area after Khayrul named them during interrogation,' he said.
On their way back, Khairul's father Mohammad with some people attacked the police vehicle. 'They tried to free Khairul but failed,' said inspector Shahriar Hasan.
Steps will be taken against the attackers, said OC Hasan.
News Courtesy:
https://www.newagebd.net/article/174520/3-policemen-hurt-in-bid-to-free-arrestee-in-khulna