BHOLA CLASH, KILLING: Police prosecute 400, BNP stages protests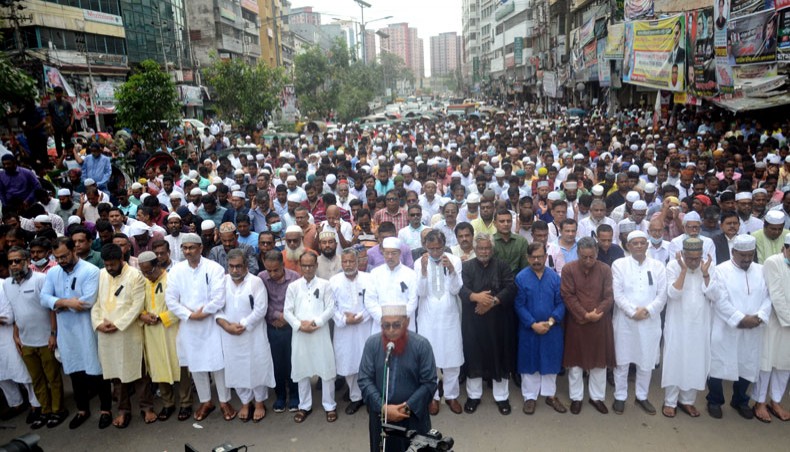 The police have filed two cases against over 400 leaders and activists of the opposition Bangladesh National Party over Sunday's clash in Bhola Sadar that led to the killing of Swechasebak Dal activist Abdur Rahim.
Rahim, 28, an activist of the BNP-affiliated organisation was shot dead and scores were injured as police opened fire on opposition activists, who were trying to bring a procession protesting the energy sector mismanagement and power cuts.
The BNP and its front organisations on Monday held gayebana janaza (absentee funeral prayers) across the country for Rahim and also brought out rallies protesting the death of the party activist in Bhola.
New Age correspondents from Jhenaidah, Patuakhali, Jhalakati, Pirojpur, Noakhali, Sylhet, and Habiganj reported that the BNP and its associate bodies held absentee funeral prayers and brought out rallies protesting the killing of Rahim.
BNP leaders in Bhola alleged that police had started raiding their houses and harassing them since Sunday night.
Rahim's post-mortem examinations were completed at Bhola Sadar Hospital, and he was buried at his village Koralia of Dakshin Dighaldi union of Sadar upazila after namaz-e-janaza on Monday afternoon.
Rahim, a farmer and householder, left his widow, and four minor kids—three sons and a daughter—behind, said Bhola unit Swechasebak Dal joint secretary Md Rubel.
He said that Rahim suffered police birdshot on his head, shoulder, throat and other parts of his body. Rahim was also beaten by police as there were marks of torture on his body.
Bhola Sadar police station officer-in-charge Enayet Hossain said that they had filed two cases over the assault on police and the murder of Rahim against BNP leaders and activists.
The police assault case named 70 people, including Bhola unit BNP president Golam Nabi Alamgir and secretary Harun-or-Rashid Truman, and 300-350 unnamed activists, said the OC.
The murder case has an unidentified accused, he said.
Bhola police additional superintendent Farhad Sarker said that they had arrested nine people over the incident and were continuing their drive to arrest more accused.
BNP leader Alamgir said that police opened indiscriminate fire and charged batons at BNP activists without provocation and sued the party activists.
'BNP leaders and activists cannot stay at their houses. The police are threatening their families also,' said Alamgir.
The BNP leader said that they would file a case over the attack and murder of Rahim, but was sceptical about whether police would accept their case or not.
Alamgir said that Bhola unit Chhatra Dal former president Nure Alam was among the injured and had been undergoing treatment in critical condition.
BNP secretary general Mirza Fakhrul Islam Alamgir on Monday visited Nure Alam at Comfort Hospital in Green Road of the capital. The party sources said that Nure Alam is undergoing treatment at the intensive care unit of the hospital.
The situation in Bhola Sadar remained tense as additional police had been deployed after Sunday's clash.
Asked about police harassment of BNP activists, additional SP Farhad said that they were not harassing anyone or raiding the houses of any general BNP activists.
'The houses of the activists, who were involved in Sunday's violence, are being raided by police and it will continue. Police are raiding to arrest the accused in the cases,' said Farhad.
In Dhaka, in a brief address prior to the absentee funeral prayer for Rahim in front of the BNP's Naya Paltan central office, BNP secretary general Mirza Fakhrul said that the sacrifice of Rahim would not go in vain and vowed to intensify their anti-government movement by turning the grief into strength.
He said the fascist Awami regime had made it clear that it would suppress any movement by resorting to repression.
'But Abdur Rahim's blood in Bhola has proved that the people of this country will never accept the repressive policies of the despotic government,' he said.
Fakhrul said that the people of Bhola had also sent out a message that they would restore democracy and free the country from misrule, even if it meant sacrificing their lives and blood.
'We cannot let Abdur Rahim's blood go in vain. So this grief has to be transformed into strength,' he said.
'We must move forward holding the spirit of his [Rahim's] sacrifice of life and blood, and we have to defeat this government by intensifying our movement,' Fakhrul added.
The BNP secretary general alleged that police opened fire on a peaceful rally in Bhola, killing Rahim and injuring over a hundred people, including BNP central leader ABM Mosharraf Hossain.
'It was a completely peaceful rally demanding electricity. But the police of Sheikh Hasina's fascist government fired bullets on that rally,' he said.
The party will also stage demonstrations in all districts, including in Dhaka, on Tuesday to protest the killing of Rahim.
In a statement on Monday, Ganatantra Mancha, a proposed alliance of seven parties, expressed concern over the killing of Abdur Rahim in Bhola.
News Courtesy:
https://www.newagebd.net/article/177326/police-prosecute-400-bnp-stages-protests