TCB begins sale of essential commodities for low-income people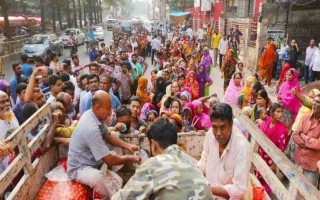 State-owned Trading Corporation of Bangladesh on Tuesday began selling essential items at fair prices for 1 crore low-income families across the country, marking the month of mourning.
Commerce minister Tipu Munshi inaugurated the sales initiative in Dhaka's Mohammadpur area on Tuesday morning.
'Some 10 million families across the country having cards will be able to buy the essential items in phases,' Tipu said.
He also warned of strict action against anyone found indulging in any irregularities in selling these essentials.
Each cardholder can buy 1kg of sugar at Tk 55, 2kg of lentils at Tk 65 per kg, two litres of soybean oil at Tk 110 per litre, and 2kg of onion at Tk 20 per kg.
This time, the corporation will not sell essential items on trucks rather eligible people have to buy the same from the shops of the distributors or at designated places.
News Courtesy:
https://www.newagebd.net/article/177418/tcb-begins-sale-of-essential-commodities-for-low-income-people