CU BCL faction withdraw demonstration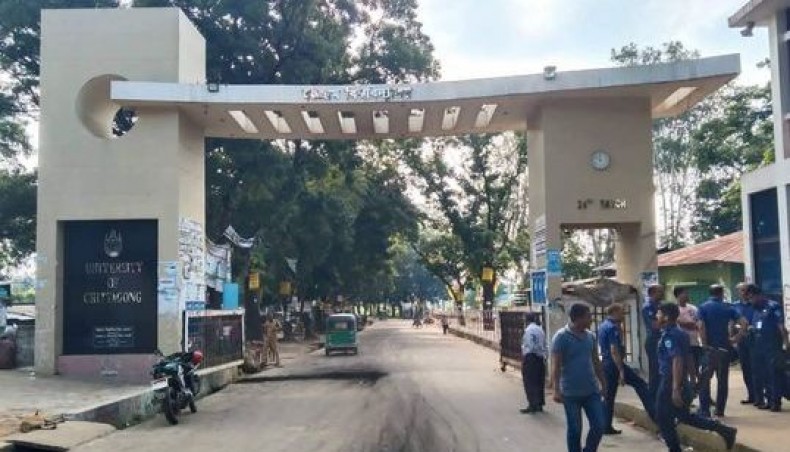 The blockade imposed by a faction of the Chittagong University unit of Bangladesh Chhatra League, which failed to secure an expected number of posts in the newly formed full-fledged committee of the unit, was withdrawn on Tuesday afternoon.
BCL activist Delwar Hossain, who led the blockade at the university, told New Age that they withdrew the blockade after getting a direction from their leader deputy education minister Mohibul Hassan Chowdhoury.
'We tried to inform our leader Mohibul Hassan Chowdhoury about the issue through the protest. He knows about the issue now. That's why we have withdrawn the blockade. He will take decision in this regard,' the BCL activist said.
The BCL faction is the followers of Jahedul Awal, who has secured a vice-president post in the full-fledged committee. Jahedul was an accused in BCL leader Tapos Sarkar murder case.
Jahedul was now an employee of Chittagong Veterinary and Animal Sciences University, said BCL sources.
The central BCL on early Monday announced a 375-member full-fledged committee of the CU unit, after they had constituted a two-member ad-hoc committee with Rezaul Hoque Rubel, a 2006-07 session student, as its president and Iqbal Hossen Tipu, a 2010-11 session student, as the general secretary on July 14, 2019 for a year.
Followers of Jahedul Awal blocked the university main gate on Monday morning which continued till Tuesday 12:00pm.
The blockade forced the university authorities to suspend classes and examinations scheduled on Monday and Tuesday, CU proctor Rabiul Hasan Bhuiyan told New Age.
The committee's another vice-president Pradip Chakraborty Durjoy was also an accused in the Tapos Sarkar murder case.
In addition, the committee's joint secretary Raju Munsi was an accused in the case filed over the CRB double murder, committed on June 24, 2013, during clashes between two BCL and Juba League groups over controlling a railway tender.
Raju Munsi recently threatened a teacher of the university for barring a student who was copying during an examination.
News Courtesy:
https://www.newagebd.net/article/177415/cu-bcl-faction-withdraw-demonstration