Journalist Toab Khan dies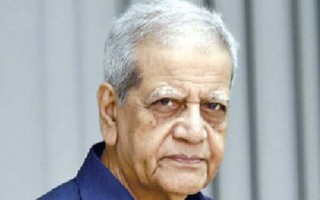 Ekushe Padak winner journalist and Dainik Bangla editor Toab Khan died in a hospital in Bangladesh capital Dhaka on Saturday. He was 87.
He was earlier admitted to the United Hospitals in the city where he died at about 12:30pm on Saturday, said Dainik Bangla executive editor Sharifuzzaman Pintu in a facebook post.
Prime minister Sheikh Hasina, who is now in Washington DC, USA, expressed profound shock and sorrow at the death of Toab Khan.
In a message of condolence, she prayed for eternal peace of the departed soul and conveyed deep sympathy to the bereaved family, said a press release of the prime minister's press wing.
Ruling Awami League general secretary and road transport and bridges minister Obaidul Quader in a statement expressed deep shock at the death of Toab Khan.
Born in Satkhira on April 24, 1934, Toab Khan started journalism in 1953.
He worked for Dainik Sangbad and Dainik Pakistan. He was a press secretary to the country's founding president Sheikh Mujibur Rahman.
Later, he served as chief information officer and director general of the Press Institute of Bangladesh.
Toab Khan served as the advisory editor of the Daily Janakantha .
He was awarded Ekushey Padak in 2016 for his outstanding contribution to journalism.
News Courtesy:
https://www.newagebd.net/article/182532/journalist-toab-khan-dies