How human rights violators lecture on human rights, PM wonders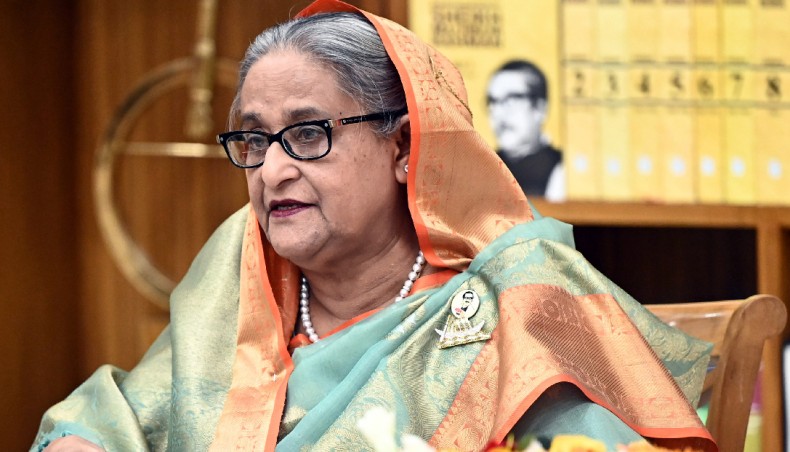 Slamming BNP for obstructing the trial in the August 15 massacre, prime minister Sheikh Hasina on Tuesday said that it was an irony for the nation that the patrons of the killers were lecturing on democracy and human rights.
'Today we are to hear the words of democracy, vote and human rights from them. Unfortunately, the same people are the killers, patrons of killers and violators of human rights,' she said.
The prime minster was addressing the inauguration of Sheikh Russel Day-2022 and Sheikh Russel Medal-2022, joining it through a virtual platform from her official residence Ganobhaban.
The event was organised at the Bangabandhu International Conference Center to mark the 59th birthday of Sheikh Russel, the youngest son of Bangladesh's founding president Sheikh Mujibur Rahman. Russel was one of the martyrs of the August 15 tragedy when he was only 10-year old.
Hasina said she and her sister Sheikh Rehana were not allowed to seek justice for the assassination of their family members until she formed the government in 1996.
The PM said everyone who came to power after 1975 — Ziaur Rahman, General Ershand and Khaleda Zia — patronised and rewarded the brutal killers.
In the function, the prime minister inaugurated 5,000 digital Sheikh Russel Digital Labs and 300 Sheikh Russel Schools of Future (one school for each of the 300 parliamentary constituencies) as part of the government's move to equip the future generations with modern and technology-based knowledge.
PM Hasina also unveiled a book titled Duronto Pranobanto Sheikh Russel featuring his childhood.
A video message from Nobel Peace Laureate and renowned child rights activist Kailash Satyarthi, the trailer of an animated film — Amader Chotto Russel Sona — a video documentary on Sheikh Russel and a theme song marking Sheikh Russel Day-2022 were played at the event. The ICT Division made the 3D animated film, documentary and theme song.
State minister for information and communication technology Zunaid Ahmed Palak presided over the event, while ICT division senior secretary NM Zeaul Alam, Bangladesh Jatiyo Shishu Kishore Parishad secretary general KM Shahidullah and child speaker Afsa Zafar Srijita spoke on the occasion.
Sheikh Russel was born on October 18 in 1964, at the historic Bangabandhu Bhaban at Dhanmondi.
Last year, the government declared October 18 as Sheikh Russel Day under the category Ka to observe the day nationally.
News Courtesy:
https://www.newagebd.net/article/183994/how-human-rights-violators-lecture-on-human-rights-pm-wonders