BNP pays homage to Ziaur Rahman marking Nov 7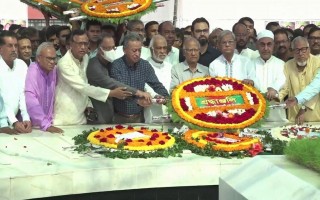 Bangladesh Nationalist Party leaders and activists paid homage to their party founder and late president Ziaur Rahman on Monday, marking what they said the National Revolution and Solidarity Day.
Amid political turmoil, soldiers and civilians jointly freed then chief of army staff Ziaur Rahman from captivity in Dhaka cantonment on November 7 in 1975, paving the way for him to come to power.
BNP and its associate bodies chalked out various programmes to observe the day.
As part of the programmes, senior BNP leaders and activists, led by party secretary general Mirza Fakhrul Islam Alamgir, placed a wreath at Zia's grave at Sher-e-Bangla Nagar around 11:00am.
They also offered fateha there and a munajat seeking salvation of Zia's departed soul.
BNP standing committee members Khandaker Mosharraf Hossain, Abdul Moyeen Khan, Nazrul Islam Khan, Amir Khosru Mahmud Chowdhury and Iqbal Hasan Mahmud Tuku were present at the programme, among others.
Later, talking to reporters, Mirza Fakhrul said that the patriotic soldiers and mass people brought back the freedom of Bangladesh by freeing Ziaur Rahman from captivity on November 7, 1975 through a revolution.
'That's why this day is significant for the people of Bangladesh. November 7 is not just a day, it was a day to consolidate the independence and sovereignty achieved by the people of Bangladesh through the Liberation War in 1971,' he observed.
'On this day, we take a vow that we'll take our movement to the final stage for bringing back democracy. We'll restore democracy, free our leader Khaleda Zia, bring our leader Tarique Rahman back to the country and free the people of the entire country from misrule and establish a truly democratic state and democratic society,' Fakhrul said.
Leaders and activists of different units and associate bodies of the party also laid wreaths at its founder's grave on the occasion.
Earlier in the morning, the BNP flag was hoisted at the party's Nayapaltan central and chairperson's Gulshan offices and other party offices across the country.
The party will also arrange an open discussion in front of its Nayapaltan central office at 2:00pm on the same day.
While BNP and its alliance partners celebrate November 7 as the National Revolution and Solidarity Day, the ruling Awami League and its front organisations consider it as the day of killing of freedom fighters.
News Courtesy:
https://www.newagebd.net/article/185748/bnp-pays-homage-to-ziaur-rahman-marking-nov-7