PBI arrests two youths for killing rickshaw puller in Ctg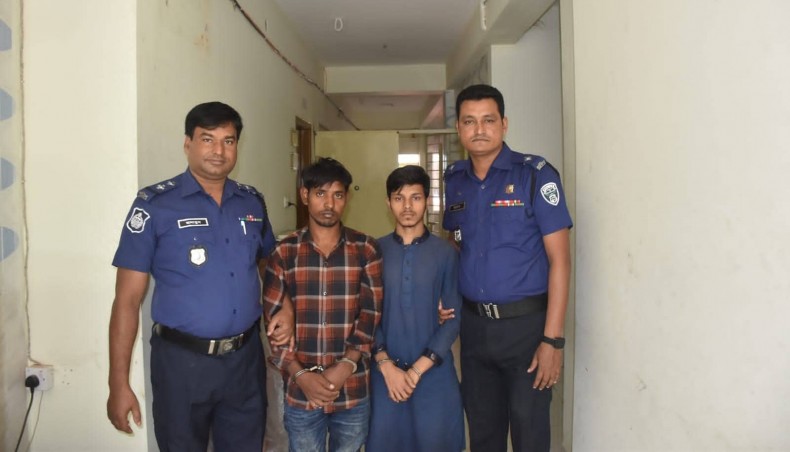 The Police Bureau of Investigation on Sunday arrested two youths on charge of killing a rickshaw puller for snatching the rickshaw on November 9 in Shikalbaha area of Karnaphuli upazila in Chattogram.
The arrested were identified as Md Ala Uddin, 28, son of Md Abdus Salam, hailed from Shikalbaha area in Karnaphuli upazila and Md Shakil Ahmed, 19, son of Md Jahangir Alam, hailed from Chouddagram area in Cumilla, said officials.
The PBI arrested Ala Uddin and Shakil Ahmed in Laldighi area in Chattogram city on early Sunday, said Naima Sultana, superintendent of PBI, Chattogram metro.
Police recovered an unidentified body from Shikalbaha area in Karnaphuli upazila on November 9. Later police identified the deceased as Md Hasan, 45, hailed from Charjabbar area in Noakhali. Hasan was a physically challenged man and he used to drive a battery rickshaw in Chattogram city for living, according to police.
'Ala Uddin and Shakil Ahmed hired the rickshaw from Laldighi area to go to Shikalbaha area on November 9 at about 1:30am. After reaching Shikalbaha, Ala Uddin and Shakil Ahmed tried to snatch the rickshaw from Hasan. As Hasan tried to resist them, they strangled Hasan to death and dumped the body in a drain,' said Naima Sultana.
'The duo committed the murder for snatching the rickshaw,' she said.
'We identified the criminals after analysing CCTV footages. They were seen on the footages collected by the PBI team. The duo also admitted their crime to police,' she added.
News Courtesy:
https://www.newagebd.net/article/186313/pbi-arrests-two-youths-for-killing-rickshaw-puller-in-ctg