Traffic to be halted in some areas Sunday morning for Ijtema: GMP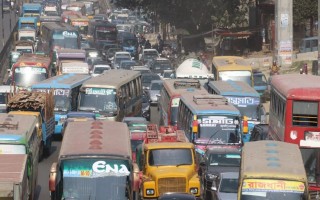 As done during the first phase of Bishwa Ijtema, Gazipur Metropolitan Police has issued some traffic directives to ease devotees commuting to and from the congregation ground.
Movements of vehicles from Tongi to Bhogra Bypass on Dhaka-Mymensingh highway, Kamarpara Road, Abdullahpur to Bypile on Ashulia Road will remain suspended from 6:00am Sunday till the end of Akheri Munajat, said GMP commissioner Mollah Nazrul Islam.
The GMP commissioner requested commuters to use the bypass road to avoid traffic gridlock.
The second phase of Bishwa Ijtema started on Friday morning and it will end through the Akheri Munajat on Sunday morning.
News Courtesy:
https://www.newagebd.net/article/192266/traffic-to-be-halted-in-some-areas-sunday-morning-for-ijtema-gmp