All haor roads to be elevated for unhindered water flow, says PM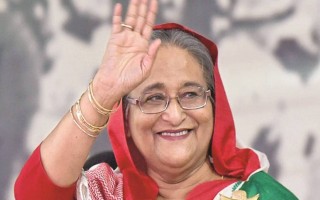 Prime minister Sheikh Hasina on Tuesday declared that all roads in the haor regions would be elevated for unhindered water flow, aquaculture and maintaining smooth waterways.
'I have already gave directives that in every haor, beel and wetland area each and every road will be elevated. This will not be filled with soil,' she said.
The prime minister said this while addressing a programme on the occasion of inaugurating Bir Muktijoddha Abdul Hamid Cantonment at Mithamoin in Kishoreganj.
She said that all roads would be elevated so that the water flow during the rainy season would not be hindered, the fish movement and boat plying will not be obstructed and the communication system for the people will not be hampered.
'We want to do that. This way the communication from the cantonment to Sylhet and Dhaka will be easy,' she said.
Hasina said that this cantonment would play a pivotal role in maintaining overall security in the haor areas.
'Besides, our defence system in the North-Eastern region will be strengthened,' she added.
She said that people of the haor areas always fight against the adverse situation of the environment for their survival.
She said that valiant freedom fighter president Abdul Hamid had been elected repeatedly from this area since 1970 election and served the mass people.
'Remaining beside the people of this remote area and sharing of their wellbeing and woes he worked tirelessly to change their fates,' the PM said.
She mentioned that when he became the president he wished to establish a cantonment in this area which would contribute to the region's overall development.
'As per his wish we have set up this cantonment,' she said.
She said that the president had always played his role as deputy leader, deputy speaker, speaker and the president with the utmost sincerity.
'Whatever the post he held, he played his role successfully with the utmost sincerity. He has finished his two tenures as the president. We have decided to name the cantonment after him,' she said.
The PM said that president Hamid had a big role in country's Independence and building the country after the Liberation War.
'He is a devoted soul and leads an honest life to serve the people of his country. So we are very much happy to name this cantonment after him.'
The prime minister said that Bangladesh's advancement had been barred due to the coronavirus pandemic and worldwide recession, and following the Ukriane-Russia war.
'The world is suffering from economic recession due to that. The prices of essentials and transportation cost has been increased significantly. Price of each and every item is out of reach,' she said.
She said that developed countries are also suffering from this.
'But in our country we have been able to move the wheels of the economy. This is necessary as the prices of food items have been increased.'
She has urged all not to leave single inch of land uncultivated.
'We will bring all fallow lands under cultivation, we will produce our own food. If necessary we will help others. But we have to do our own job,' she asserted.
She said that the government would keep the economy moving it's not hit by the wave of recession.
'We have to move with caution, we have to maintain austerity and save our resources,' she told the event.
PM Hasina said that the Awami League government had hauled the organisational structure of the army as they have established 17 infantry divisions in Sylhet, 10 infantry divisions in Ramu and seven infantry divisions in Barisal.
She said that the government also, in the last 4 years established 3 brigades and 58 small and large units under various formations.
At the same time, she said, they have established 27 small and big units as ad hoc and reorganised nine organisations.
Last year, she continued, they have established Sheikh Russell Cantonment in Mawa-Jazira.
'At present, two new cantonments are in progress at Rajbari and Trishal,' she added.
Sheikh Hasina said that they were working hard to modernise the army.
She said that so far, the army had procured state-of-the-art aircraft, helicopters, Tiger MLRS, Shorad Missiles, 4th generation tanks, APCs, missiles and other war equipment.
Besides, advanced IT equipment and modern vehicles had been purchased, she added.
About the CMHs, the premier said that the CHMs have been equipped with modern medical equipment.
She said that they had organised advanced training and accommodation and constructed mess and SM barrack for army personnel of all ranks.
'We have also increased other facilities including salary and ration,' she said.
Turning to the eating habits of Bengalis, she said, 'I have arranged two meals of rice and fish-meat instead of bread for the military people'
She also raised flag, released balloons, inspected the parade and took salute.
She planted a tree sapling there and signed on the visitor's book.
News Courtesy:
https://www.newagebd.net/article/195602/all-haor-roads-to-be-elevated-for-unhindered-water-flow-says-pm