CHINA-CENTRAL ASIA SUMMIT: More positivity to the region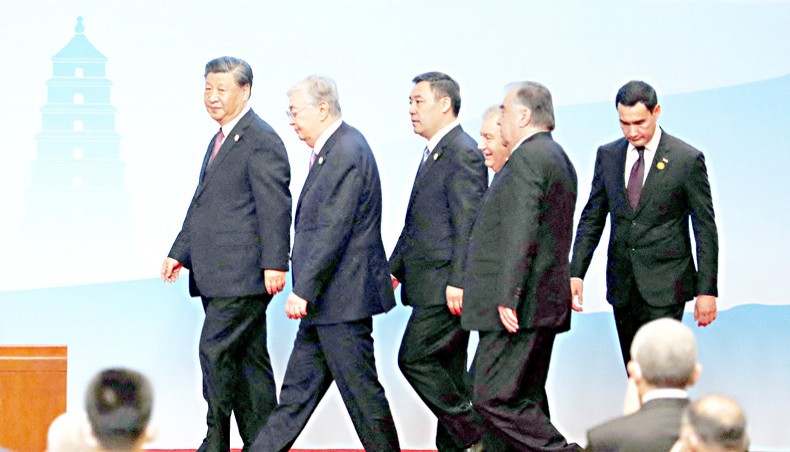 CHINA'S president Xi Jinping hosted the highly anticipated China-Central Asia Summit, in May 18–19, in the ancient city of Xian, Shaanxi Province. This C+C5 summit, the first of its kind, had all the ingredients to be one of the major events, with the presence of leaders from Kazakhstan, Kyrgyzstan, Tajikistan, Turkmenistan and Uzbekistan.
It is worth noting that China and the five Central Asian nations have worked together for more than 30 years, establishing a strategic partnership and cultivating good relations based on mutual respect and cooperation. This type of collaboration is a refreshing departure from the zero-sum game that has characterised much of global politics in recent years. China and Central Asia are forging a new path for international relations that could serve as a model for other nations.
These six countries have cultivated a strategic partnership based on the principles of good neighborliness, friendship, and mutually beneficial cooperation. Together, they have charted a new course for international relations, paving the way for a fresh paradigm of global engagement. As China seeks to strengthen its ties with Central Asia, the summit is an important milestone in its pursuit of a more interconnected and collaborative world.
Throughout history, Central Asia has served as a vital conduit, bridging the Far East to Europe, facilitating the exchange of goods and ideas along the illustrious Silk Road. Yet, as times change, relationships require diligent attention and continual adaptation to remain relevant. Because of its vast energy resources — oil gas and coal — and geographical location, Central Asia occupies a pivotal position, holding the spotlight in terms of both geo-strategic and geo-economic significance.
When examining Central Asia, the terms 'connectivity' and 'energy' reign supreme in all discussions, and for good reason. Given the region's unique position between the east and the west, it is no surprise that major global powers have attempted at manipulating this region to their advantage. However, it is clear that current transport and other forms of linkages are lacking in development there. Many countries in Central Asia are unable to access global markets because of lack of direct road and rail links, which limits their options for growth and expansion.
The summit, which represents the most significant level of engagement within the C+C5 framework, underscores the mutual interests in security and prosperity shared by China and the Central Asian countries, particularly amidst the turbulence faced at the regional and global levels. This highlights the deepening and broadening nature of regional cooperation. The summit is meant to strengthen political and economic relations between China and the Central Asian countries. With high-level exchanges, the stage is set for closer trade connections under the Belt and Road Initiative, a project involving billions of dollars that has already yielded benefits in the region for the past decade. The Belt and Road Initiative is poised to catalyse significant upgrades to infrastructure in Central Asia, hastening the pace of development in the region.
Not only will this bold initiative enhance connectivity between the countries involved, it will also position Xinjiang as a key gateway to the economic hub of Central Asia. By bridging the divide between East Asia, Europe, the Middle East, and Africa, the Belt and Road Initiative promises to unlock an array of new opportunities for these vital regions of the world. Moreover, cooperation in agriculture and new energy, the fundamental pillars of China's trade with Central Asia, will expand under the BRI while collaboration in e-commerce, digital and green economies, and advanced technology could also yield fresh avenues for partnership. The BRI projects, aimed at benefiting local communities, are already beginning to bear fruit.
In 2022, trade between China and the five Central Asian countries reached an impressive $70.2 billion, marking a more than 42 per cent year-on-year increase. In the same period, China's import of agricultural, energy, and mineral products from Central Asia escalated by more than 50 per cent. The Chinese government's direct investments in the region also climbed to almost $15 billion, with cooperative endeavors under way in fields such as oil and gas exploration, processing and manufacturing, connectivity and digital technologies. Trade is slated to continue its upward trajectory, with cooperation with China driving growth and generating mutual benefits for the region.
This impressive momentum shows no signs of slowing down, with trade between China and the five Central Asian countries experiencing a robust 22 per cent year-on-year increase in the first two months of this year alone. As this partnership continues to blossom and mature, the potential for greater economic prosperity, innovation, and growth across the region is truly boundless. Experts are noting a significant increase in concrete and meaningful cooperation between China and Central Asia, which they attribute to an improved level of mutual trust and shared interests.
Prominent examples of this cooperation include the ongoing construction of the China-Kyrgyzstan-Uzbekistan railway and the China-Central Asia gas pipeline. The leaders' summit within the C+C5 mechanism presents an opportunity to discuss China's proposed Global Development Initiative, Global Security Initiative, and Global Civilization Initiative. These initiatives could guide future cooperation and promote the construction of a stable security order and a fairer economic order. As China and the five Central Asian countries share common interests in maintaining regional security and stability, cooperation in this area is expected to deepen and broaden. With the generous and sincere cooperation of China, Central Asia is on the cusp of a profound transformation as a vibrant and prosperous region. As Central Asia embarks on this exciting new journey, the possibilities for growth, innovation, and progress are endless.
Amidst the unsettling context of Russia's conflict in Ukraine and escalating tensions with the west, China appears ready to fortify its relationships with the countries of Central Asia. As global uncertainties cast shadows over international dynamics, China seems keen on solidifying its presence in Central Asia, potentially leveraging the current state of affairs to enhance its strategic position. This meeting holds the promise of bolstering ties and amplifying China's influence in the region.
News Courtesy:
https://www.newagebd.net/article/202068/more-positivity-to-the-region