Climate funds misused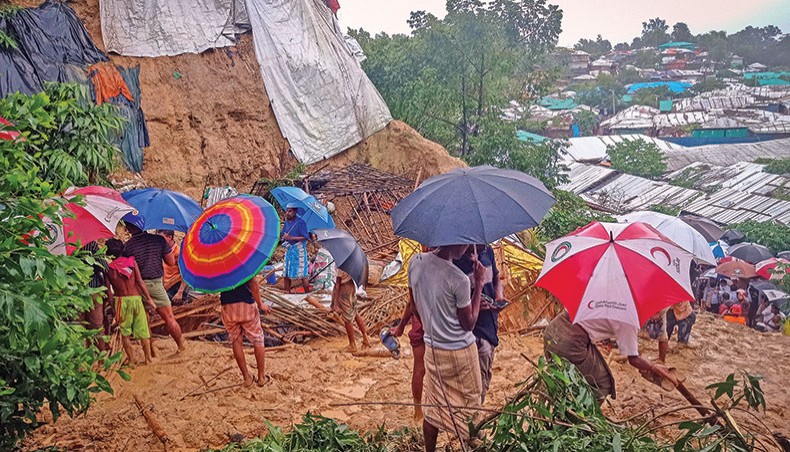 Mismanagement and unrealistic decisions by politicians and bureaucrats over the years led to the misuse of funds meant to address the country's climate vulnerability, causing significant gaps in expected outcomes.
Amid concerns over vested interests and political influences, climate change experts have raised doubts about the efficacy of the mechanism to prioritise projects, which failed to effectively mitigate climate vulnerability.
At its latest meeting in February, the trustee board of the Bangladesh Climate Change Trust Fund, in the presence of only seven members out of the 17, again approved 57 solar street light installation projects out of the total 72 in municipalities around the country.
One such project, the solar street light installation in Charghat municipality in Rajshahi, received an allocation of Tk 2 crore in 2019. However, the fund was misused, resulting in the installation of only 159 street lights, which went out of order in a matter of months.
Mayor Ekramul Haque of the municipality explained that they were unable to repair the faulty lights as the contractor had already been paid in full on completion of the work.
Municipality officials, speaking anonymously, revealed that each light was set up at a cost of Tk 1.25 lakh, significantly higher than the market price of Tk 30,000 to 50,000.
Not only that, more than half of the 370 ongoing BCCTF- funded projects are directly solar-powered, approved by the board, while some other municipalities went for drainage or road construction.
Climate change experts, however, said that funding in solar street light or drainage and road construction projects for municipalities were not justified in terms of climate change mitigation while they suspected that vested interests, those with political influence and some in the bureaucracy caused the laudable initiative of combating climate change to fail.
The BCCTF trustee board consists of 10 ministers, five bureaucrats and just two independent experts.
According to individual board member Professor Emeritus Ainun Nishat, as Bangladesh doesn't contribute to emission, so mitigation is not a priority for Bangladesh but the BCCTF is doing that.
Solar light is a climate change mitigation initiative as it reduces greenhouse emission but, he said, the most important task for Bangladesh is research where it is yet to give concentration.
'The BCCTF is not encouraging research as the project approval process is led by bureaucrats and politicians,' he said.
Politicians want more allocation for their constituencies despite the importance of research, he further said.
'I don't attend BCCTF meetings anymore as I am not happy with its activities,' said Nishat who is one of the pioneering climate experts in the country.
Besides, the BCCTF has a 13-member technical committee which hardly commands technical knowledge as it is led by bureaucrats, the climate expert observed.
Green activists criticise both committees and demand their reformation and accountability.
Since the BCCTF was formed, a total of Tk 3,955 crore was allocated for 851 projects until December 2022, according to official data.
More than 15 ministries have spent the climate funds on six thematic areas identified by the Bangladesh Climate Change Strategy and Action Plan 2009.
According to documents, the highest Tk 1,398 crore was given to the Local Government Division for 479 projects, the second highest Tk 1,058 crore to the Water Resource Ministry for 135 projects while the environment ministry received Tk 486 crore for 78 projects.
Among the thematic areas, the highest 59 per cent of the money was spent on infrastructure development, followed by 23 per cent on mitigation and low-carbon development, 13 per cent on food security, social protection, health, 4 percent on research, 2 per cent on capacity building and institutional development and 1 per cent on comprehensive disaster management.
Coastal division Khulna is considered one of the severe climate vulnerable areas but the BCCTF has so far allocated Tk 300 crore for 83 projects there while Dhaka division received Tk 640 crore for 141 projects and Chattogram Tk 639 crore for 639 projects.
Climate experts view that the distribution of the fund was unjust.
'Infrastructure development is not the goal of the BCCTF, rather research and knowledge development,' said Saber Hossain Chowdhury, the chairman of the parliamentary standing committee on the environment, forest and climate change ministry.
He, too, said that as Bangladesh was not an emitter so mitigation was not an issue, rather, as a victim country, Bangladesh needed locally developed adaptation innovation.
The parliamentary committee at its latest meeting on June 25 criticised the BCCTF for undertaking solar projects and directed the entity to use its money in a proper way.
In 2013, the BCCTF approved a botanical garden establishment project in Chattogram at an estimated cost of Tk 17 crore but the project was scrapped on an evaluation that it was not feasible after spending Tk 1.10 crore.
Several such BCCTF-funded projects, which the experts said unjust, unnecessary and a waste of public money, continued to be implemented.
Anti-corruption watchdog Transparency International Bangladesh executive director Iftekharuzzaman said that the investment in so many solar projects was questionable against the spirit of the formation of the fund.
He said that the TIB in a study on climate financing found a nexus among solar suppliers, project implementing agencies and trustee board members.
Strong syndicates are there in the process, resulting in corruption and low-quality products at high prices in purchase deals, he further said.
He suggested that the fund use rules should be updated specifying the importance of the six thematic areas to stop unjust allocation in a sub-thematic area like low carbon development.
According to Centre for Participatory Research and Development chief executive Md Shamsuddoha, BCCTF money is allocated on political consideration, not on a scientific basis.
'Most of the infrastructure projects undertaken do not qualify to address climate issues but funding is increasing there,' he observed.
Infrastructure projects, mostly in municipal areas, used to install solar street lights, set up drainage systems and build roads. 'These are easy, visible and present huge procurement as well as corruption scope, he said.
'We must take up knowledge-based projects, but government agencies hugely lack in this regard,' he said.
For the lack of efficient manpower in the sector and mismanagement of funds, Bangladesh has also failed to access expected amount from global funds even though it is one of the top climate-vulnerable countries of the world, said frustrated green activists.
They said that Bangladesh had also failed to access the targeted funds formed under the United Nations Framework Convention on Climate Change.
Being one of the most climate-vulnerable countries, Bangladesh could reach only $597.4 million form three platforms — Green Climate Fund, Adaptation Fund and Least Developed Countries Fund.
Finance Division officials said that out of the total $540 million received only 57.4 million was as grant.
The fund Bangladesh accessed was highly insignificant in terms of its climate combating plans, they noted.
According to the Delta Plan, Bangladesh estimated that it would need $37 billion for implementing 80 identified projects while the National Adaptation Plan 2023-50 mentioned 113 innervations that would cost $230 billion among others, by 2030.
Green organisation Change Initiative founder-chief executive M Zakir Hossain Khan said that the trust fund was an interim initiative to make the domestic agencies capable to reach global funds but the target was not achieved.
While the fund was intended to be spent on vulnerability and risk assessment, research and capacity building and innovation, the trust is spending it in a piecemeal way, wasting money.
'Trust fund allocations are given not based on vulnerability, rather on personal connections,' he said.
News Courtesy:
https://www.newagebd.net/article/205974/climate-funds-misused