US ambassador to Bangladesh joins dinner with BNP, AL leaders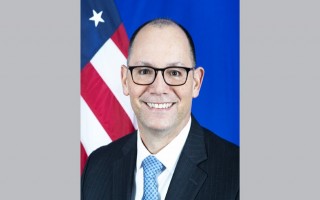 The United States ambassador to Bangladesh Peter Haas and some other foreign diplomats attended a dinner with a group of leaders of the main opposition Bangladesh Nationalist Party and ruling Awami League on Wednesday night.
He went to the house of Syed M Altaf Hussain, a pro-BNP businessman, in Gulshan, several BNP leaders confirmed New Age.
Among others, BNP standing committee member Gayeshwar Chandra Roy, vice-chairmen Abdul Awal Mintoo, Zainul Abdin Farroque and Barkat Ullah Bulu, international affairs committee member Tabith Awal, Gazipur district BNP president Fazlul Haque Milan, and executive committee member Mir Helal attended the dinner.
Besides, land minister Saifuzzaman Chowdhury was also present at the dinner.
News Courtesy:
https://www.newagebd.net/article/215985/us-ambassador-to-bangladesh-joins-dinner-with-bnp-al-leaders