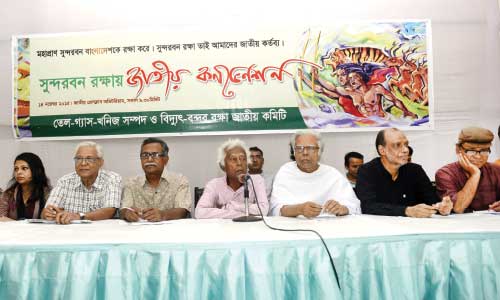 National Committee to Protect Oil, Gas, Mineral Resources, Power and Ports will hold Dhaka-Sunderbans long march in March 10-15, 2016 for cancellation of the projects for coal-based Rampal Thermal Power Plant and Orion power plant at Rampal in Bagerhat to save the Sunderbans.
The committee announced its fresh programmes, including the long march, at its daylong national convention at the National Press Club on Saturday.
Prior to the six-day long march, the national committee will hold countrywide mass contacts, rallies and processions to drum up supports to the long march, its convener Sheikh Muhammad Shaheedullah said, announcing the programmes.
The national committee will hold mass contacts from November 15 to January 2016 and rallies in Dhaka and divisional and district headquarters on February 15.
Shaheedullah called on all the left and progressive political parties to be united under the umbrella of the national committee to compel the government to refrain from implementing the projects those would destroy the Sunderbans.
The national committee would wage tougher movement if the government did not drop the power plant projects, Shaheedullah said.
National committee members-secretary Anu Muhammad called on the government to refrain from installing the power plants to save the world's largest mangrove forest that saved the people from natural calamities.
He also called on the government to implement the seven-point demands of the national committee to save the natural resources.
The convention was divided into two parts and in the first part academics and environment experts Nur Mohammad, Dhaka University teachers MM Akash, Tanzimuddin Ahmed, Mosheda Sultana and others spoke.
In the concluding sessions left leaders Tipu Biswas, Bimal Biswas, Shubhrangshu Chakrabartty, Zonayed Saki, Saiful Huq, Mosharraf Hossain Nannu, Ruhin Hossain Prince, Bazlur Rashid Firoz, Mushrefa Mishu and others addressed the convention.
Delegates from more than 30 districts also addressed the convention.
- See more at: http://newagebd.net/175540/national-oil-gas-committee-dhaka-sunderbans-long-march-in-march-10-15/#sthash.kph81JQw.dpuf