Virgin Galactic spacecraft crash kills pilot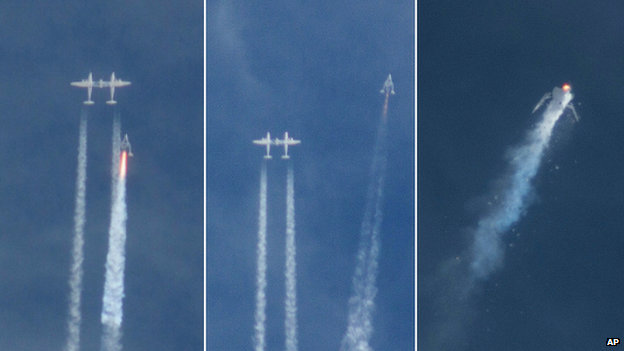 A pilot was killed and another injured as Virgin Galactic's SpaceShipTwo space tourism craft crashed in the California desert.The craft was flying a manned test when it experienced what the company described as "a serious anomaly".It was undergoing its first powered test flight since January over the Mojave Desert, north of Los Angeles.Virgin Group founder Sir Richard Branson said he was "shocked and saddened" by the "tragic loss".In a blog post, he said everyone involved in the project was "deeply saddened"."All our thoughts are with the families of everyone affected by this tragic event," he wrote.He said that he was flying to California immediately, describing it as "one of the most difficult trips I have ever had to make"."Space is hard - but worth it. We will persevere and move forward together," he added.
Dr David Whitehouse, space scientist: "I think this shows that there is no such thing as routine, regular safe access to space"Both pilots were employed by Scaled Composites, the company that designed the craft. One was pronounced dead at the scene while the other was transported to a local hospital in an unknown condition.Television images shot from a helicopter showed wreckage bearing the Virgin logo. Officials have said the debris is strewn over a large area.
In a statement, Virgin Galactic said the "vehicle suffered a serious anomaly resulting in the loss of SpaceShipTwo".The aircraft that the spacecraft was launched from, known as White Knight 2, landed safely, Virgin Galactic said.It was the second accident this week involving a commercial space company in the US.On Tuesday, an unmanned supply rocket called Antares exploded shortly after its launch from Virginia. It was carrying cargo to the International Space Station.
Eyewitness Ken Brown: "It burned for a time and then just exploded"Ken Brown, a photographer who witnessed the SpaceShipTwo crash, said the craft had exploded after it was released from the plane that carried it to a high altitude.Officials with the National Transportation Safety Board will begin their work on Saturday morning to investigate the cause of the accident, which will probably take several days."We are going to be supporting the investigation as we figure out what happened today," said George Whitesides, chief executive of Virgin Galactic.
"The future rests in many ways on hard days like this but we believe we owe it to the folks who were flying these vehicles as well as the folks working so hard on this to understand this and move forward.""Space is hard, and today was a tough day", Virgin Galactic chief executive George Whitesides told a news conference in California