Air strikes failed to weaken IS: Syria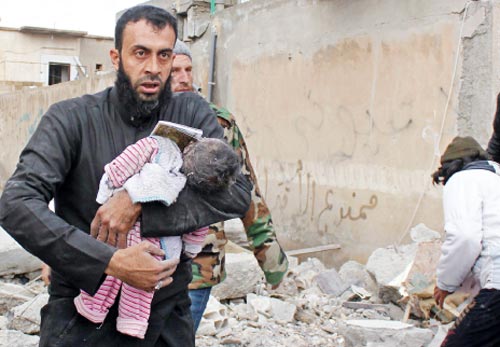 US-led strikes against the Islamic State group in Syria have failed to weaken the jihadist organisation, according to Syria's foreign minister Walid Muallem. Speaking on Friday night to two Middle Eastern television stations, Muallem also said 'more time' was needed before a dialogue between the Syrian government and opposition could begin. 'Is Daesh weaker today after two months of coalition strikes?' Muallem asked, using the Arabic acronym for the Islamic State group. 'All the indicators show that it is not,' he said, in an interview with the pan-Arab Al-Mayadeen news channel. The strikes would have no impact, he said, because Turkey has failed to control its border, which Damascus says jihadists cross freely to enter Syria. 'If the United States and the members of the UN Security Council do not mount a real effort to force Turkey to control its border… even these coalition strikes will not be able to put an end to Daesh,' Muallem said.
The US-led coalition launched air strikes against IS in Syria on September 23, killing at least 963 people, including 838 IS jihadists and 72 members of al-Qaeda's Syrian affiliate Al-Nusra Front. Another 52 civilians have also been killed, along with one Islamist rebel, according to the Syrian Observatory for Human Rights monitoring group. Muallem was interviewed in Russia, where he was leading a Syrian delegation on a three-day trip that included talks with key ally Russian president Vladimir Putin. Speaking to Al-Manar, the television station of Lebanon's Shia Hezbollah movement, another key regime ally, Muallem lauded the 'satisfactory results of the visit'. The talks revolved around a bid to relaunch negotiations between the Syrian regime and opposition, and Muallem said Moscow and Damascus had established a 'mechanism' to lay the foundations for new negotiations. 'Russia wants an intra-Syrian dialogue without any external interference,' Muallem said. 'That's what we hope for too, but the process requires more time… as well as a reevaluation by the opposition of their previous positions,' he added.
- See more at: http://newagebd.net/71765/air-strikes-failed-to-weaken-is-syria/#sthash.v24vKZDT.dpuf