Hong Kong protests: Authorities begin site clearance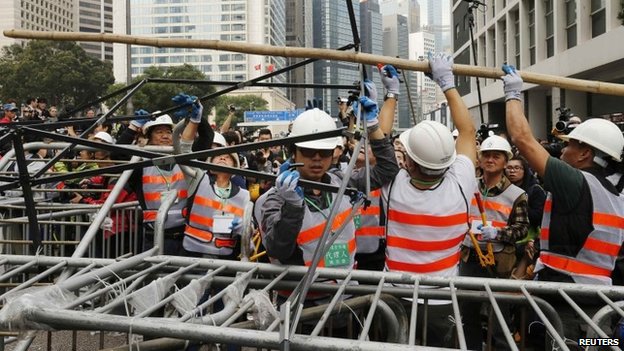 The authorities had warned protestors to leave ahead of the operation, but some vowed to remain.The number of protesters has fallen to a few hundred, from the tens of thousands who turned out in September.Some say they expect to be arrested, but no clashes have been reported yet.Police began building up their presence at the site during the early morning. Just after the 09:00 (01:00GMT) deadline for protesters to leave expired, bailiffs read out a final warning.At around 10:30, workers backed by police moved in and began dismantling barricades in one section of the site, using box cutters to remove ties.
By noon, they had removed two barricades and were working on a third, the BBC's John Sudworth reported from the scene. Protesters were sitting on the ground on the other side of it.But, says our correspondent, there is a sense among everybody here that this is the end of this stage of the protest.The protesters want Beijing to allow free elections for the territory's next leader in 2017. China says everyone can vote but a pro-Beijing committee will screen candidates.
For Details: http://www.bbc.com/news/world-asia-china-30426346