U.S. warships to monitor ships traveling from Iran.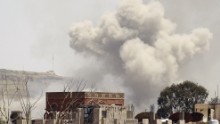 U.S. warships are being deployed to Yemen to monitor ships in the area traveling from Iran and suspected of trafficking arms to Houthi rebels, U.S. officials tell CNN. The move is also meant to reassure allies in the region, the officials said.
U.S. ships do not have authority to forcibly board Iranian-flagged ships.
Earlier this month, a U.S. Navy ship consensually boarded a Panamanian-flagged vessel suspected of trafficking people, drugs or weapons. Nothing was found.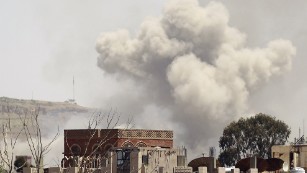 "We are closely monitoring all maritime activity in the Arabian Sea and Gulf of Aden," Commander Kevin Stephens of the Fifth Fleet told CNN. "We not going discuss the number and types of vessels we are monitoring or speculate about the possible destination or cargo of those vessels."
U.S. warships from the carrier group of the USS Theodore Roosevelt are joining allied vessels from Saudi Arabia, Egypt and other partner nations prepared to intercept a convoy of 7-9 Iranian vessels believed headed for Yemen. The allies are prepared to board Iranian vessels if they proceed into Yemeni territorial waters.
The Roosevelt aircraft carrier and the guided missile destroyer USS Normandy were the two ships the Navy moved into the waters off the coast of Yemen on Sunday. At this stage, there are nine U.S. naval ships operating off the coast in Yemen.
When asked about warnings from Saudi Arabia and the U.S. to keep Iranian navy ships away from Yemen, the Commander of Iran's Regular Navy, Flotilla Admiral Habibollah Sayyari, said his fleet was within operating legally.
"We don't let anyone give us warnings and threats, because we are working according to international law and regulations," he said. "And we work for the security of our country and other countries."
Sayyari added that Iranian navy ships in the area were there to combat piracy secure the safe transfer of goods through the waters.
The U.S. warships come to a region already seeing a good deal of U.S. military activity.
The Roosevelt in particular only recently arrived in the theater and had been in the Arabian Gulf supporting Operation Inherent Resolve in Iraq and Syria, according to Stephens.
Sen. John McCain, R-Arizona, told CNN's Wolf Blitzer on the "Situation Room" he would only endorse U.S. air power against Yemen if it was the only option.
"It is a very serious escalatory step," he said on Monday. "If you're going to use U.S. air power, what else is going to happen to make sure you stop the Houthi?"
McCain blamed President Barack Obama's foreign policy for the deteriorating situation.
"It was very obvious to many of us that this did not have to happen," McCain said. "We did not take care of the regime that was in place, the president that was in there. It is a symptom of our failure throughout the Middle East."
News Courtesy: www.cnn.com