Nepal quake: Airport customs holding up aid relief - UN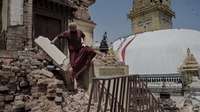 The United Nations has urged Nepal to relax customs controls which it says are holding up deliveries of aid to survivors of last week's earthquake.UN humanitarian chief Valerie Amos said Nepal had a duty to provide faster customs clearance for relief supplies.Many people are yet to receive the aid, which is piling up at Kathmandu airport, a week after the 7.8-magnitude earthquake on 25 April.More than 7,000 have died. Authorities have ruled out finding more survivors.
'Administrative issues'
On Saturday, Baroness Amos said she had reminded Prime Minister Sushil Koirala that Nepal had signed an agreement with the UN in 2007 for simpler and faster customs clearance for relief aid in a disaster."He has undertaken to ensure that happens, so I hope that from now we will see an improvement in those administrative issues," she told AFP news agency.The UN representative in the country, Jamie McGoldrick, said the Nepalese government "should not be using peacetime customs methodology".Nepal lifted import taxes on tarpaulins and tents on Friday but home ministry spokesman Laxmi Prasad Dhakal said all goods arriving from abroad had to be inspected."This is something we need to do," he said.Rameshwor Dangal, of Nepal's National Disaster Management Division, said many people were waiting to receive emergency supplies or be airlifted to safety."In many areas people are not getting relief and it is natural that they are unhappy about it," he told AFP.
Courtesy: http://www.bbc.com