Pakistani chopper crashes into school; 2 ambassadors killed.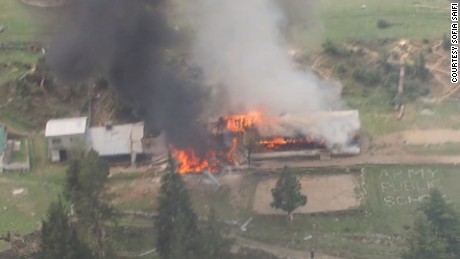 Two ambassadors and the wives of two other ambassadors were among seven people killed when a helicopter crashed Friday into a school in northern Pakistan. Others -- Pakistanis and foreigners alike -- were injured.One big question: Was it an accident, or was the helicopter attacked?Pakistan's military believes a mechanical problem caused the Mi-17 helicopter to go down, army spokesman Gen. Asim Bajwa told CNN, citing an initial investigation.
But a spokesman for Tehreek-e-Taliban Pakistan, known as the TTP or Pakistani Taliban, insists this was no accident. Members of his militant group used a surface-to-air, shoulder-fired missile, Mohammed Khurrassani said.The Taliban spokesman said militants had "a special plan to target" Pakistani Prime Minister Nawaz Sharif during his anticipated visit to Pakistan's Naltar Valley. Sharif wasn't part of the delegation in Naltar, but the TTP -- according to Khurrassani -- carried through nonetheless.
Khurrassani appeared to warn of future attacks using SAM-7 anti-aircraft missiles."We will soon unveil to the entire world the shoulder-launch missile SAM-7 and its training," he said.
Filipino, Norwegian ambassadors killed
Those killed include Norwegian Ambassador Leif Larsen and Philippines Ambassador Domingo D. Lucenario Jr., as well as the wives of Indonesia and Malaysia's top diplomats in the Asian nation, and the two pilots, according to Pakistan's Ministry of Foreign Affairs.In a statement from the Philippines' foreign affairs department, the 54-year-old Lucenario was remembered as a decorated "career ambassador" who had worked out of Germany, Hong Kong, Australia, Afghanistan and Kenya, where his jurisdiction included 12 African countries.
"Ambassador Lucenario was one of the few career Filipino diplomats who had the rare distinction of having been awarded by the President of the Philippines with three major presidential awards," said the department, which noted the diplomat is survived by his wife and three children. "...The Department of Foreign Affairs offers its deepest sympathies and condolences to the family of Ambassador Lucenario at this time of mourning."
Indonesia's foreign affairs ministry identified the late wife of its top diplomat in Pakistan as Heri Listyawati Burhan Muhammad, adding, "May her family be given strength."Bajwa tweeted that there were "13 survivors with varying degrees of injuries." Those hurt include the Dutch, Indonesian, Malaysia and Polish ambassadors to Pakistan, according to the first three countries' governments and Pakistan's foreign ministry.
Malaysia's foreign ministry said that its ambassador, Hasrul Sani Mujtabar, was being treated in Gilgit Hospital.It is not known how many people on the ground, if any, are among the casualties.The helicopter that had, in Bajwa's words, "a crash landing" was one of three carrying visitors to Pakistan's Naltar Valley. The two other helicopters landed safely, the Pakistani army spokesman said.
Pakisani leader offers condolences
The chopper convoy was carrying diplomats and their families on a three-day tour to familiarize them with the region in conjunction with the launch of a tourism project. Located in Pakistan's Gilgit region, Naltar is known for its scenic mountains and lakes.
Pakistan's foreign ministry that they were among representatives from more than 30 countries who joined Pakistani dignitaries on the tour. The trip began with a flight to Gilgit on a C-130 aircraft, followed by helicopter trip to Naltar.
"Such excursion trips are regularly organized by the Ministry of Foreign Affairs in consultation with the Diplomatic Corps," the ministry said.While it's still in dispute why the helicopter went down, there is plenty of precedence for terrorist attacks in Pakistan.Most incidents of such violence have occurred in cities like Peshawar or areas near the Afghan border, such as the Swat Valley in Khyber Pakhtunkhwa province. Naltar Valley, by contrast, has been relatively peaceful.
After Friday's crash, Pakistan's Prime Minister said he had asked health officials to provide the best medical treatment to the survivors and expressed solace to relatives of those killed."The prime minister has extended heartfelt condolences on the sad demise of ambassadors and spouses who died in the helicopter crash," Sharif's office said in a statement. "He also expressed concern over the injured diplomats and prayed for their speedy recovery. "
News Courtesy: www.cnn.com