Egyptian court: Former President Hosni Mubarak can go free.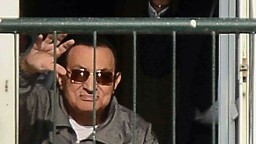 Hosni Mubarak had been Egypt's strong-handed president, controlling the North African nation for nearly three decades. He'd been target of mass scorn and derision, with hundreds of thousands hitting the streets to blast his rule. He'd been in prison, sentenced to spend the rest of his life there for the killing of protesters.But soon he will be a free man.That was the decision Saturday by the Cairo Court of Appeals, which state media reported upheld a three-year sentence against the 87-year-old Mubarak on corruption charges, but -- accounting for time he's already served -- gave the OK for him to go home.
When and exactly where he'll get out of custody wasn't immediately clear.Nor was it evident that Egyptians would care much, if and when that happens.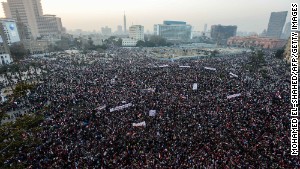 Photos: Egyptians mark anniversary of Arab Spring uprising
Just a few years ago, throngs risked their lives to demand Mubarak's ouster. A short time later, they were glued to their televisions to watch his first trial.But Cairo now is a lot different than in 2011. Some have a strong interest in what happens to Mubarak, be they his allies or his staunchest enemies, including those who lost loved ones amid demonstrations.
Other Egyptians, though, are tired of all the legal back-and-forth. They don't have the same kind of energy for mass discontent, or the same patience for those who do.And they can't be surprised. The Muslim Brotherhood-dominated government, led by elected then deposed and convicted President Mohamed Morsy, is gone. Egypt's powerful military -- which helped prop up Mubarak for decades -- made sure of that. The army's former chief of staff, Abdel Fattah El-Sisi, is now the nation's president.
Latest in Mubarak's roller coaster saga
The Cairo Court of Appeals decision won't just pave the way for the release of Hosni Mubarak.His sons Gamal and Alaa, who were power-players during their father's stay in power, also had their sentences reduced by the court and were ordered freed, state-run Al Ahram newspaper reported.
The family won't get off entirely: The court slapped a multimillion-dollar fine on Mubarak and his sons to pay back the Egyptian government for embezzlement.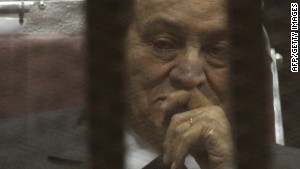 Hosni Mubarak -- seen here while on trial in May 2014 -- was taken into custody shortly after his ouster as Egypt's president.It could be worse for the Mubaraks, but of course, it once was much better. Hosni Mubarak, after all, dominated Egypt from his ascension to president in 1981, shortly after the assassination of Anwar Sadat, right up until early 2011.
Everything came crashing down then, as massive, vibrant forces broke out in Cairo's Tahrir Square and elsewhere in Egypt.Security forces cracked down, but the demonstrators didn't relent. Instead, they swelled in numbers in what was then the highlight of the Arab Spring, the movement of popular revolutions then sweeping North Africa and the Middle East.
Eventually, Mubarak bowed to the pressure by stepping down as president. And, in the process, he became even more of a marked man.Hosni Mubarak: Fast facts
The Egyptian general prosecutor's office announced later that year that he and his sons, Gamal and Alaa, would stand trial on charges related to corruption and the killing of protesters -- setting off a legal roller coaster for the Mubaraks.
In June 2012, the longtime Egyptian leader was found guilty and sentenced to life in prison.But he got a new trial the following year, one that culminated in May 2014 with the three-year prison sentence tied to a conviction for embezzlement. His two sons got four years each on the same charge.Mubarak would be cleared of the same charges in November 2014, only to have a court in January ordered the embezzlement case retried.
His freedom doesn't mean Mubarak's legal woes are over, including appeals and possibly new charges. The last few years have proved, if nothing else, that there can be a lot of twists in the Egyptian legal system that could affect its longtime leader.
News Courtesy: www.cnn.com