Russia marks 70 years since victory over Nazi Germany with huge parade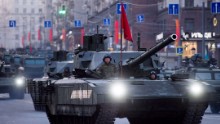 Russia marked 70 years since the victory over Nazi Germany on Saturday with a spectacular parade in Moscow featuring some 16,000 soldiers, 200 armored vehicles and 150 planes and helicopters.This is expected to be the last major anniversary of the conflict when significant numbers of World War II veterans are still alive to take part.
Presidents including China's Xi Jinping, India's Pranab Mukherjee and Venezuela's Nicolas Maduro joined their Russian counterpart, Vladimir Putin, in Moscow's Red Square for the parade.Many Western leaders have chosen to miss the event, however, in protest of Russia's alleged military involvement in the ongoing conflict in Ukraine. Moscow is accused by Kiev and the West of backing and equipping pro-Russian separatists in eastern Ukraine. It also annexed Ukraine's Crimea region a little over a year ago.
Also absent was North Korean leader Kim Jong Un, who had been expected to attend until Moscow announced 10 days ago that "domestic affairs" would instead keep him at home. North Korean state media reported Saturday that the country had carried out a successful underwater test of a ballistic missile.
Putin pays tribute to veterans
Victory Day, marking the day that Germany surrendered to the Soviets in 1945, is a major holiday in Russia.In a speech in Red Square, Putin paid tribute to those who died in the conflict and in Nazi concentration camps before holding a moment of silence.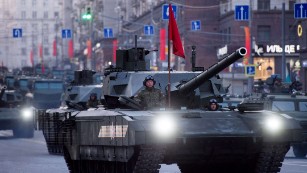 He said the veterans present were the "main heroes" of the commemorations. "Today your children or grandchildren are grateful to you for this victory, working for the future of the country," he said.As the parade got under way, ranks of soldiers carrying standards and flags marched through the cobbled square, accompanied by impeccably choreographed military bands.
Making its debut in the parade of military vehicles was Russia's new main battle tank, the Armata T-14.According to the state-run website RT.com, the Armata "is a cutting-edge vehicle with an unmanned turret armed with a brand new 125 mm smoothbore cannon, which is the most powerful gun of its kind to date in terms of muzzle energy."
Keen observers of military hardware got a sneak preview recently as the tank was rolled out in practice sessions for Saturday's event.The show of might also included large vehicles bearing Russia's latest generation of intercontinental ballistic missiles and military aircraft flying in formation overhead.
Analyst: Parade demonstrates Russian defiance
Pavel Felgenhauer, a Russian defense analyst and expert on weaponry, said the parade was intended to send a message to the world that Russia is back as a great military power.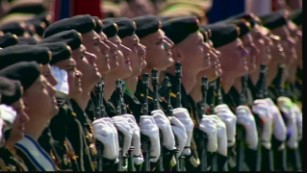 "It's a sign of Russia's defiance, that the Western attempts to kind of ignore Russia will not work, that Russia is strong and it has powerful friends," he said.During the parade, Putin and China's President were talking much of the time through interpreters, he said.The decision by many Western leaders not to attend has been presented in Russian state media as an attempt to detract from Russia's role in the victory and "undermine Russian greatness," said Felgenhauer.Russia is in the midst of a massive rearmament program, with the Armata tank the most talked-about piece of new hardware, said Felgenhauer.
It's still in a more or less prototype form, he said, with mass production of the tank not expected to begin for a couple of years or more. Nonetheless, it's a potent symbol for the Russian military, he added.Jill Dougherty, a Russia expert at the Wilson Center and CNN's former Moscow bureau chief, said social media and TV reports indicate that many ordinary Russians feel insulted by the absence of Western leaders from the commemoration.
They feel it's a victory that primarily Russians won with their deaths and are angered that it is not being marked by other Allied nations, she said."There's a feeling of insult and anger," she said. "Unfortunately that plays very much into the feeling that's going on in Moscow right now, which is exactly about that -- insult by the West, a feeling that the West has become the enemy once again."World War II is extremely important to Russians, she said, and provokes strong emotions in them.
Search for World War II remains
More than 26 million people in the former Soviet Union died during World War II, known in Russia as the Great Patriotic War.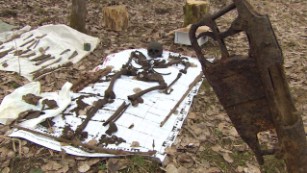 The bodies of as many as 4 million Russian soldiers have never been recovered, according to the Russian Defense Ministry.Groups of volunteers equipped with metal detectors scour the forests of what was the Eastern Front for human remains, particularly around St. Petersburg, where some of the bloodiest battles of the 20th Century took place.
Seven decades later, the earth is still littered with remnants of Russia's wartime past, the bones of those who fell sometimes covered by just a thin layer of soil.
Europe, United States mark VE Day
Ukraine is also holding Victory Day commemorations on Saturday, led by President Petro Poroshenko in Kiev.
Pro-Russian separatists in Donetsk, eastern Ukraine, and Sevastopol in Crimea, were planning to stage their own military parades.
Other European nations and the United States marked the 70th anniversary of the Allied victory in Europe on Friday.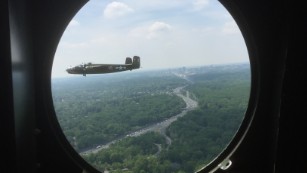 In Washington, D.C., more than two dozen World War II-era fighters and bomber planes took part in a flyover of some of the nation's most famous monuments, watched by hundreds of World War II veterans.
Meanwhile, U.S. Secretary of State John Kerry laid a wreath at the tomb of the Unknown Warrior at the Arc d'Triomphe in Paris, alongside French President Francois Hollande."Today, as we reflect on the past, we accept our responsibility to maintain that commitment to justice, to uphold the rule of law, and to work as Allies and friends to defend the rights and dignity of every human being," Kerry said in a statement.
In London, Prime Minister David Cameron and other political leaders laid wreaths at the Cenotaph, hours after general election results came through giving Cameron's Conservative Party an unexpected majority.
News Courtesy: www.cnn.com