Suspect in death of woman held in box killed by Missouri police.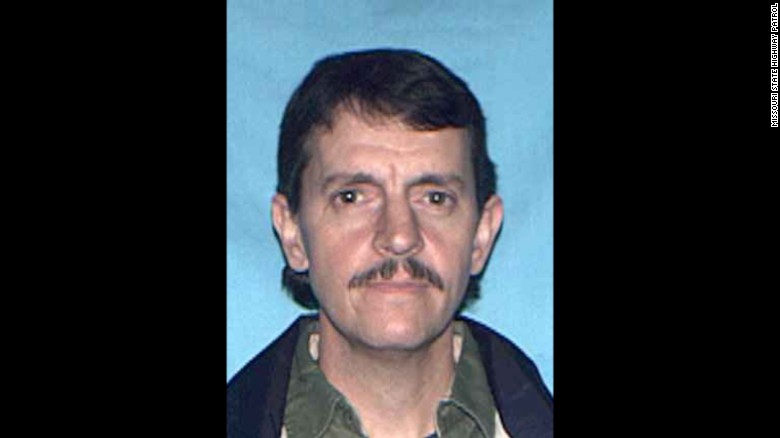 A Missouri woman kept captive in a wooden box for four months escaped in April, only to be shot to death this week along with her son -- and the suspect in their deaths was killed Saturday, authorities said.James Barton Horn Jr. -- who had been charged with two homicides, kidnapping, armed criminal action and unlawful use of a weapon -- was fatally shot by police in a home in Johnson County, said Lt. Sonny Lynch of Rural Missouri Major Case Squad.
"He was in a closet. He was armed. He refused to surrender, he threatened officers, and he was shot and killed," Lynch told reporters.Police had said Horn, 47, kept Sandra Sutton, his ex-girlfriend, in a box at a home in Sedalia, in the west-central part of the state, from January to April 30.
Free, but in hiding
Authorities were called Thursday to a house in Clinton, about 45 miles from Sedalia, where they found Sutton, 46, and her son, Zachary Sutton, 17, shot to death.They had been staying with Sutton's relatives after she fled from her alleged captor, police said.
Sutton's body was in the bedroom and her son's was on the stairs. Relatives found them about 4:30 a.m."They were discovered by family members who were working on the overnight shift," Lynch, who works for the Clinton Police Department, said Friday. "They had been away working when this happened."
Why didn't she have police protection?
The fatal shootings sparked questions on why Sutton didn't have police protection because the man who allegedly kept her captive was on the run.The two moved in with Sutton's brother, and local authorities didn't know that she lived in Clinton, Lynch told CNN affiliate KSHB."We did not know she was living in our community," Lynch said. "We're still investigating those details. We were not notified that she was in our community."
Victim advocacy groups urged Sutton to get police protection, but she said she felt safe, Lynch told the affiliate.The suspect knew her relatives, where they lived and what shifts they worked, according to Lynch.Police have searched various homes linked to the suspect, including the one in Sedalia where she was allegedly kept in a box.
Horn had been in prison several times, including one stint in the early 1990s for kidnapping and raping an ex-girlfriend in Tennessee, according to The News & Observer of Raleigh, North Carolina. He also went to a federal prison in North Carolina for another kidnapping and rape in Mississippi, the paper reported.
In 2011, prosecutors in the second case argued Horn should not be released as scheduled because he was too dangerous. In a court order obtained by the newspaper, a judge wrote there was no clear proof that Horn had a mental impairment. So after almost 13 years in prison, he was released.
Sutton's escape
In Sedalia, authorities had been looking for the suspect since Sutton's box ordeal surfaced.She escaped at 6 p.m. April 30, and ran to a neighbor's house, who helped her notify authorities, KSHB reported.When police arrived, a "hysterical" Sutton told them Horn had kept her in a wooden box on and off for four months inside a house they shared, according to the affiliate.
She was allowed to get out of the box when the suspect was home in the evenings, police said.Authorities went to the home and found a box that matched the victim's description, the affiliate reported. More details about her kidnapping case were not immediately available.
News Courtesy: www.cnn.com