Iraqis launch counterattack against ISIS near Ramadi.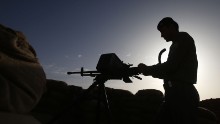 After days of ISIS fighters advancing east out of Ramadi, an alliance of Iraqi forces opposed to the terror group have launched a counterattack -- hoping to push them away from a key Iraqi military base and the country's capital.The Iraqis repelled an ISIS attack on the town of Khalidiya and then launched their own offensive to the west Saturday, toward the town of Husayba, which ISIS captured just a day earlier, said Faleh al-Eissawi, deputy governor of Anbar province.
The pushback by Sunni tribal fighters, Iraqi security forces and a Shiite militia could comprise the first significant counterattack in the area since ISIS took control of Ramadi, capital of the predominantly Sunni Anbar province, earlier this month.
The fighting in the Ramadi area has prompted thousands of civilians to flee in recent weeks, many of them to Baghdad, 65 miles (105 kilometers) to the east.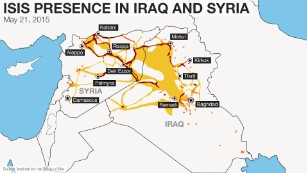 ISIS, the extremist Islamist group that has captured portions of Iraq and Syria for what it calls its Islamic caliphate, has brutalized not only its military opponents but also civilians accused of favoring the government or who don't subscribe to ISIS' brand of Islam.
In the Ramadi area, witnesses said ISIS militants summarily executed people in the street whom they accused of working with the government."They were killing anyone who they accused of being with the police or the army," one witness told CNN.
ISIS' march east toward Baghdad
Until Saturday's counterattack, ISIS forces have been inching east since capturing Ramadi, seemingly intending to create an ISIS-controlled corridor along the Euphrates River between Ramadi and another Anbar city it already held, Falluja. The latter city is situated just 37 miles (60 kilometers) west of Baghdad.
Standing between Ramadi and Falluja are government-controlled communities like Khalidiya and Habbaniya. Habbaniya is home to an Iraqi military base, which the Iraqi government now sees as a staging point for Iraqi security forces and Shiite militias hoping to help Sunni tribesmen retake Ramadi and the rest of Anbar.
One of the outstanding issues is whether the Iraqi government should arm Sunni tribes fighting in the region.
That's something Iraq's Shiite-led government has been slow to do. Adnan al-Assadi, an interior minister under ex-Prime Minister Nuri al-Maliki and now a lawmaker in al-Maliki's block, said he and his allies oppose such a move not for sectarian reasons but to prevent such weapons from being used against the government.
"All attempts to send arms and ammunition must be through the central government, that is why we refused the American proposal to arm the tribes in Anbar," al-Assad told CNN. "We want to make sure that the weapons would not end up in the wrong hands, especially ISIS."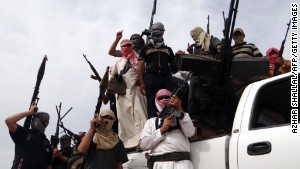 Yet U.N. Special Representative for Iraq Jan Kubis said such a step, among others, is necessary. Doing so would fall in line with current Prime Minister Haider Al-Abadi's pledge to work to heal his country's Sunni and Shiite divides, as well as to give Sunnis the tools to defend themselves.
"(We should) enable the local tribes, to enable Sunni volunteers, to arm them to take care of their own security and to be a real strong part of this popular mobilization," Kubis told CNN.
Fleeing civilians blocked by closed bridge
Anbar citizens trying to flee east toward Baghdad ran into difficulty on Friday, as a bridge linking Anbar to Baghdad province was closed.The Bzebiz Bridge is the only safe passage from Anbar to Baghdad for thousands of displaced people trying to flee.Officials did not give CNN a clear answer as to why it was shut down.
"ISIS from that side, and from here the road is blocked," said Sabah Hamid, a woman fleeing ISIS. "Where are we supposed to go?"Normally there are security procedures in place for the bridge -- the Iraqi government requires that anyone who is not from Baghdad and is trying to enter the area from Anbar must have a sponsor in Baghdad. There are reports that the restrictions have been lifted sporadically over the past few days.
On Friday, however, many were stuck in Anbar because of the bridge's closing, and they were simultaneously fearful of ISIS and furious at their government.One man told CNN that he was so upset that if he died, he didn't want to be buried in Iraq. He said he cannot consider as his own a country that would treat him so.
News Courtesy: www.cnn.com