U.S. official: 10,000-plus ISIS fighters killed in 9-month campaign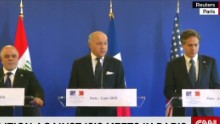 The U.S.-led coalition against ISIS has recorded more than 10,000 ISIS deaths since the campaign against the extremist group began nine months ago, U.S. Deputy Secretary of State Tony Blinken told France Inter radio.
Blinken's remarks came in an interview given Tuesday after coalition members joined Iraqi Prime Minister Haider al-Abadi for a conference in Paris that assessed progress in the campaign.
Asked whether Iraqi forces backed by the coalition were capable of standing up to ISIS, Blinken said they could."Indeed, when you act against a force like Daesh, which is a terrorist force with a totalitarian ideology, and that does not fear death, we recorded an enormous loss for Daesh. More than 10,000 since this campaign started. And this will eventually have an effect.''
Daesh is another name for ISIS that is widely used by European and Arab allies and is despised by the terrorist group.U.S. authorities have been wary of stating publicly how many ISIS militants are thought to have been killed since the campaign began.U.S. Ambassador to Iraq Stuart Jones told Al Arabiya television in January that an estimated 6,000 fighters had been killed.
But speaking to reporters afterward, then-Pentagon spokesman Rear Adm. John Kirby was adamant that the United States was not keeping a "body count" and said it would be wrong to state that there is such a count.
He called it a "tally" and said the notion of a body count suggests Vietnam War-era statistics. In that war, the Pentagon offered body counts as a measure of its success against the Viet Cong. Kirby said the tally was not aimed at showing any metric of success against ISIS.
Blinken: 'Important progress'
Speaking to France Inter, Blinken also denied that the coalition's strategy was failing, a concern heightened by the loss of the key city of Ramadi to ISIS fighters last month."In fact, what we see, and what we saw today, is that there is an important progress but also the fact that Daesh remains extremely resilient and capable of taking initiatives," he said.
ISIS controls 25% less territory than it did, he said, and the coalition has destroyed a lot of military equipment as well as killing ISIS fighters."At the same time, we saw what happened in Ramadi and we take into consideration not only progress but also tactical defeats," he said.
Coalition vows unity against ISIS
Of the 60-plus nations that joined the international coalition against ISIS nine months ago, 24 were represented in Paris on Tuesday.In a joint declaration, they pledged their continued military support, through the provision of equipment, training and airstrikes, as well as stressing the importance of reforms and reconciliation by Iraq's government to tackle sectarian division.
They also highlighted the need for an urgent political solution to the situation in war-torn Syria, which has enabled ISIS' expansion into neighboring Iraq.Al-Abadi called for the international community to take practical action to support Iraqi forces, saying: "We have to face Daesh not only from Iraq, but from all different regions of the world."
News Courtesy: www.cnn.com