Turkey votes in crucial election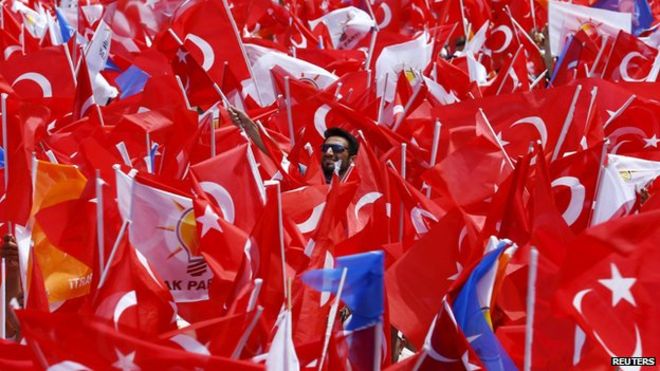 Turks are voting in a general election on Sunday which will determine whether the ruling party can change the constitution.President Recep Tayyip Erdogan, who first came to power as prime minister in 2003, is seeking a big enough majority to turn Turkey into a presidential republic.However the pro-Kurdish HDP may cross the 10% threshold and enter parliament.Explosions at its election rally in Diyarbakir on Friday killed four.
Officials said the blasts were caused by improvised bombs.HDP leader Selahattin Demirtas criticised Mr Erdogan's response to the killings.
If the left-wing HDP succeeds in winning seats in parliament for the first time, it would reduce the number of seats won by Mr Erdogan's AKP, thwarting its plans to change the constitution and transfer the prime minister's executive powers to the president.

Mr Erdogan served as prime minister until he won the presidential election last year.

A strong showing by the HDP might well deprive the ruling AKP of a parliamentary majority.

The BBC's Mark Lowen in Istanbul says Sunday's election is the biggest electoral challenge for the AKP since it came to power 13 years ago.

The result may also have ramifications beyond Turkey's borders.

The country is a vital Nato member in a volatile Middle East and a rare mix of Islam and democracy, our correspondent notes.

President Erdogan has campaigned for his AK Party, defying protocol.