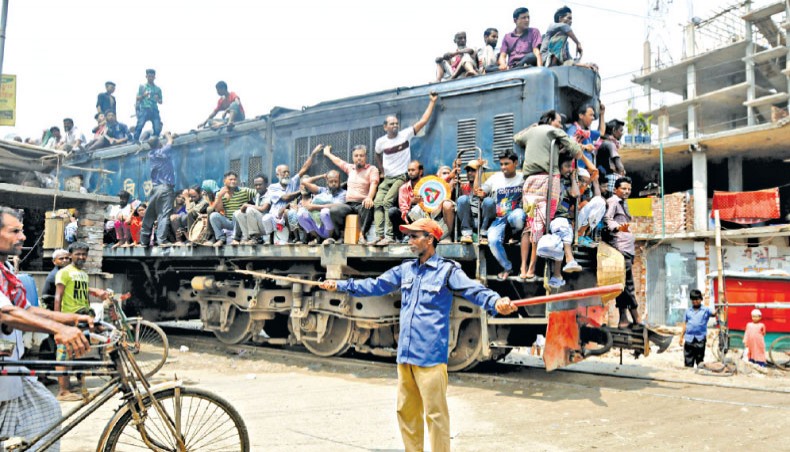 More than 70 railway stations of Bangladesh Railway are operating without power and amid an acute shortage of manpower.
These stations have been announced 'closed' by the railway authorities where usually local trains stop in daytime being aided by manual signals.
At present there are 80 'closed' railway stations in the country, according to officials.
Passenger rights activists find double standard of the government as while it is formulating policy to expand and improve the railway sector, it has kept many stations 'closed' and without power.
Out of the total 460 railway stations the numbers of the so-called closed stations are 39 in Dhaka division, 21 in Paksey division and 10 each in Chittagong and Lalmonirhat divisions.
'These stations were closed mainly for lack of manpower,' said BR deputy director for traffic transport Md Mainul Islam.
As these stations were closed, power connection to 72 of them was also cut to save expenditures, he pointed out.
Mainul said in these stations usually only local trains stopped to take passengers in daytime when the signals were given manually.
Of the closed stations, power connection to 24 stations each under Dhaka and Paksey divisions, to 13 stations under Lalmonirhat division and 11 stations under Chittagong division were snapped.
When a railway station is announced closed, all operational activities are suspended there. But in most of the close stations commercial activities – mainly ticket selling – continue where mainly local trains stop for a brief period.
The deputy director also said that last year the number of closed stations was 140 and in June of the same year they had opened 40 of them providing manpower.
BR is now lacking manpower including stations masters, points men and booking clerks to operate the stations.
At present 25,435 officers and employees are working against BR's 40,264 sanctioned posts.
Station masters and points men are Class III employees while booking clerks are Class IV employees.
Out of the total 21,644 Class III sanctioned positions, 8,567 are vacant and out of 16,481 Class IV sanctioned positions, 5,461 are vacant now.
A senior Dhaka division
railway officer said that for the division's 142 stations, they need 474 stations masters and 493 points men.
Currently they had around 160 station masters and around 290 points men, he added.
Talking to New Age, Work for a Better Bangladesh Trust project officer Atiqur Rahman suggested that the authorities should appoint required manpower instead of closing stations.
National Committee to Protect Shipping, Roads and Railways general secretary Ashis Kumar Dey said that as the government intended to improve railway sector, closing stations reflected its double standard.
Railway was a service-oriented organisation, so it should not consider losses before providing service to people, he commented.
'After its formation in 2011, the railway ministry should have addressed manpower crisis in the last seven years,' he said.
Ashis blamed negligence of the officials concerned behind the sorry state of the stations.
Some of the stations without electricity are Begunbari, Baushi, Kalikaprashad, Umednagar, Itakhola, Jamalpur Court, Bhaitiari and Mirersarai.
News Courtesy: www.newagebd.net