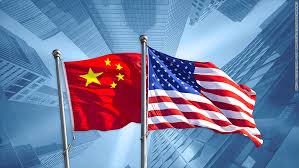 China says new talks with the United States are set to take place amid the trade war between the two economic superpowers.
The Chinese Commerce Ministry announced Thursday that a delegation will travel to the United States later this month for talks. The visit is at the invitation of the United States, the ministry said in a short statement.
​Previous rounds of talks between the two countries failed to make much progress, resulting in the outbreak of a trade war that has already hurt businesses on both sides of the Pacific. The countries imposed steep tariffs on billions of dollars of each other's exports this summer and have threatened more.
Related: Boeing CEO: US-China trade war a concern for global aerospace
The Chinese delegation will be led by Vice Commerce Minister Wang Shouwen, who will hold talks with David Malpass, the US Treasury Department's under secretary for international affairs, according to the Chinese statement.
It's highly uncertain how much headway the negotiators will be able to make, with the two governments far apart on how to address many of the key issues, including their huge trade imbalance, Chinese efforts to get hold of US technology and Beijing's ambitious industrial policies.
The Chinese Commerce Ministry on Thursday reiterated its opposition to "unilateralism and trade protectionism," saying it doesn't accept any unilateral trade restrictions.
The last round of formal trade negotiations between the two sides took place in early June, when Commerce Secretary Wilbur Ross traveled to Beijing. But those unsuccessful talks were overshadowed by the Trump administration's announcement days earlier that it was going ahead with its plan to impose 25% tariffs on $50 billion worth of goods from China.
Beijing had vowed to retaliate, and the two governments introduced the first wave of tariffs, on $34 billion of each other's exports, in early July. Another tit-for-tat round, on $16 billion of each other's products, is scheduled for August 23.
Escalating the clash, the Trump administration has announced plans for yet more tariffs, on about $200 billion of Chinese exports. Beijing has said it will fire back with new tariffs on $60 billion of US goods.
News Courtesy: www.cnn.com