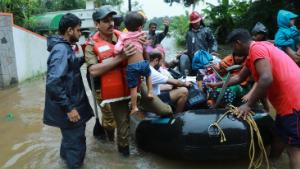 At least 324 people have died in the Indian state of Kerala since the start of monsoon season in late May, officials said Friday.
In just the past 10 days, flash floods and landslides have killed 164 people in the southern state, authorities said earlier Friday, as torrential monsoon rains continued to batter Kerala. Half of those deaths have occurred in the past three days, State Relief Commissioner P.H. Kurian told CNN.
The flooding is the worst Kerala has experienced in nearly a century.
The death toll has steadily risen over the past week as rescue workers scramble to reach thousands of people stranded by floodwater. The army, navy and coast guard have been sent in to assist, and fisherman have been asked to help with rescue efforts.
Thirteen of Kerala's 14 districts remain under a red alert, the highest warning level issued during emergencies in India, according to the country's National Disaster Response Force (NDRF), which has deployed 53 teams across the state.
On Friday, a heavily pregnant woman was rescued by helicopter from the rooftop of her flooded home in Aluva, one of the worst-hit areas, according to Indian Navy spokesman DK Sharma.
Sajitha Jabil, 25, whose water had already broken when she was airlifted to safety, delivered a baby boy in the hospital two hours later, Sharma told CNN.
Kurian is hopeful that the weather will soon improve. "The rain will let up by tomorrow," he said Friday. "Areas will still be inundated but we will have some relief."
Over a thousand personnel from military and disaster authorities are now involved in the rescue mission. Meanwhile, over 100,000 people have been forced to seek shelter in relief camps, Rekha Nambiyar, senior commandant in India's National Disaster Response Force, told CNN.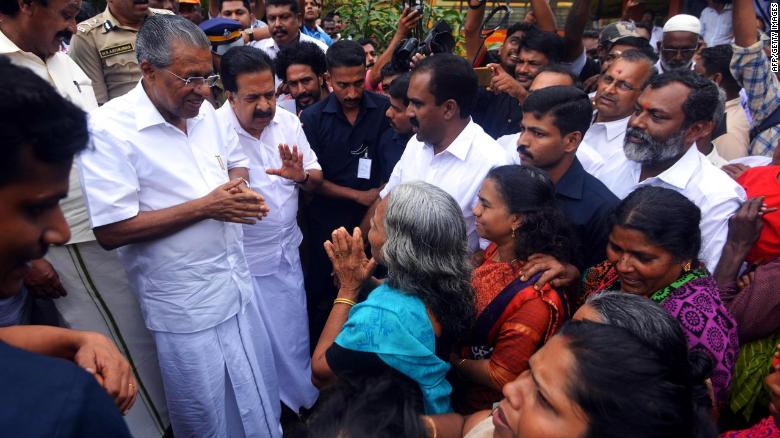 Kerala Chief Minister Pinarayi Vijayan (left) visits a relief camp in the Indian state of Kerala on August 11.
Search and rescue efforts have been further complicated by limited transport; railway tracks and roads are too flooded to use, and operations at the international airport in the city of Kochi have been suspended until Saturday.
Rescue teams have taken to the air instead. Pinarayi Vijayan, Kerala's chief minister, tweeted on Thursday asking residents to "stand in open areas on top of buildings and houses" to be airlifted, and said lifeboats and life jackets would be airdropped.
News Courtesy: www.cnn.com