82,383 primary students to get scholarships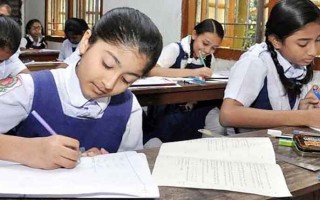 A total of 82,383 primary students are going to get scholarships in the ongoing year across Bangladesh, said the state minister for primary and mass education Md Zakir Hossain on Tuesday.
Among them, 33,000 students will get talent pool scholarships and 49,383 students will get general scholarships, he said at a press conference organised by the ministry at the secretariat for punishing the results of the primary scholarship examinations.
A total of 4,82,904 examinees participated in the examinations.
After 13 years, the primary scholarship examinations were held on December 30, 2022 across the country.
The examinations were held by allowing 20 per cent students of Class V from all schools to sit the examinations based on the merit list made by annual examinations in Class V.
The students with the scholarships will get it in every month till class VIII.
The students with talent pool scholarships will get Tk 300 every month and students with general scholarships will get Tk 225 every month.
The detailed results will be available on websites of the primary and mass education ministry (www.mopme.gov.bd) and the Directorate of Primary Education (www.dpe.gov.bd).
The examinations were held in four subjects – Bangla, English, mathematics and primary science– for a total of 100 marks and two hours' duration.
Since 2009, the government introduced Primary Education Completion Examinations for the students of Class V and based on that the students were given scholarships based on their merits.
Before that the students had to sit for the primary scholarship examinations to get the scholarships.
In 2020 and 2021, primary scholarships were not given as the Primary Education Completion Examinations were not held due to the outbreak of the Covid pandemic.
As per the new national curriculum, introduced in 2023, the system of holding the Primary Education Completion Examinations has been abolished.
News Courtesy:
https://www.newagebd.net/article/195601/82383-primary-students-to-get-scholarships